A New Season
Part 1 April
The 2008 Whately Pioneers

By Buck Fluff
Part 3...July-September and the VBBF Playoffs and World Series...Starring Us
This year we 'sort of' know what we are doing. We are now learning 'How' to do it. We start right off with the two best teams around, the Hartford Senators and the Westfield Wheelmen. Our goal is to be able to compete with these teams and MAYBE be a factor in the VBBF World Series.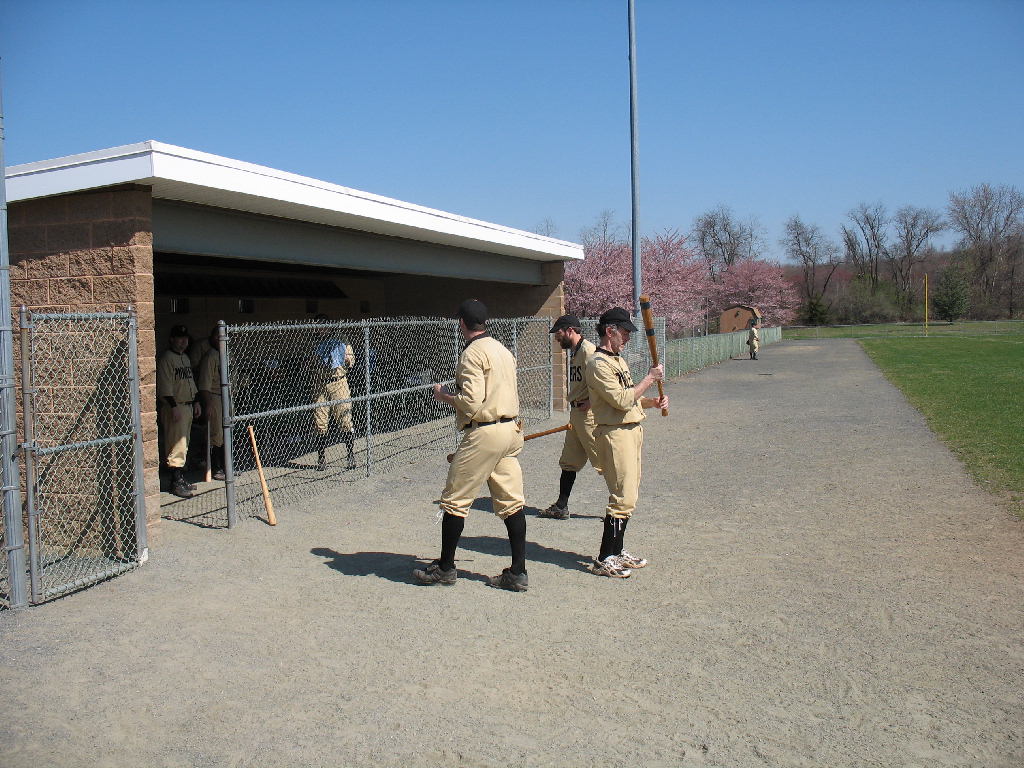 Off to South Windsor...Home of the Dark Blues
By 8 am it was obvious that April 19, 2008 might be the best day of 2008. Warm and bright, with the leaves on the trees and buds just beginning to make an appearance. What could be better? Well, from Buck's point of view, plenty. Buck would not be making the trip with his Comrads. Buck was sick. Disaster. This can't be happening.
But it was, and the day would produce 2 defeats and plenty to think about until the next game in Simsbury. We rallied the lose to the VBBF Champ Senators 17-13, which was a great showing. The rival Wheelmen dismantled us. But, one of these days...
Games 1 and 2
Pioneers Visit the Simsbury Taverneers April 26, 2008
Oh Baby, another nice Spring Day, maybe not quite as nice as last week, but pretty darn nice. Buck is back in the saddle and feelin' good to be with the boys again. Last week was torture. Today, we meet the Taverneers in their natural habitat, a fancy complex of expensive looking ball parks with electronic scoreboards and landscaping. It's nice to have Doctors and Hedge Fund traders paying property taxes. Sweet


We are a good team, with a roster full of tough S.O.B.s, but we are still learning how to field in the Vintage game. We have at least 2 broken fingers that I know of, maybe more. Last year, Spider played the whole season with a broken index finger. Now I know why Jimmy Canavan's fingers looked the way they did, bent at the ends.
But still, we have to just keep grinding and getting better. The first inning of the Taverneers game we made 3 errors to put us in an immediate 3-run hole. We had similar innings in the 5th and 7th. They say hitting a 90 mph fastball is the hardest thing to do in sports. I think catching a batted ball with a vintage glove is.
We can hit...and pitch. And two nice uprisings in the 4th and 7th were enough to get us our first franchise win. Good beer inning, good ride home, good night's sleep. On to the Wheelmen, our rivals. That is, they will be our rivals as soon as we can prevent them from kicking the snot out of us every time we play.