A New Season
Part 3 July-September
Tune up for VBBF Playoffs
April, May and June were best described as a series of miserable muggy rainy days followed by the nicest New England Summer days you have ever seen. Writing this stuff down with some time between the event and my recollection, makes me appreciate how lucky we are. Look to your right and you will see Albie, Dentist, Turk and "Mike" absolutely baking in that Forest Park dugout. I still have a spot on my head where I smacked my noggin on the roof. It was sooo hot. Sunday afternoon.
But this game was a check on our readyness to compete at a high level, against a team that crushed us in the VBBF WS last year. The Meddowe. Connie and Albie are new to the squad. Grass too. So, we are still figuring out the Whately Pioneers; a work in progress. Termie feels like a veteran already, although he is actually a rookie. Slappie and Connie can't stay long, but don't want to completely miss the action. This is one of the things that make this outfit special.
Whately Pioneers vs Meddowe July 13, 2008
As we know, these guys can hit. And they led right off with a single and a stolen base. In the first 2 innings the Meddowe cashed in a couple of safties and a muff or 2 on the Pioneer part for a 2-0 lead. The Lonmeadow 9 added another tally in the 4th on two more base hits and spme small ball.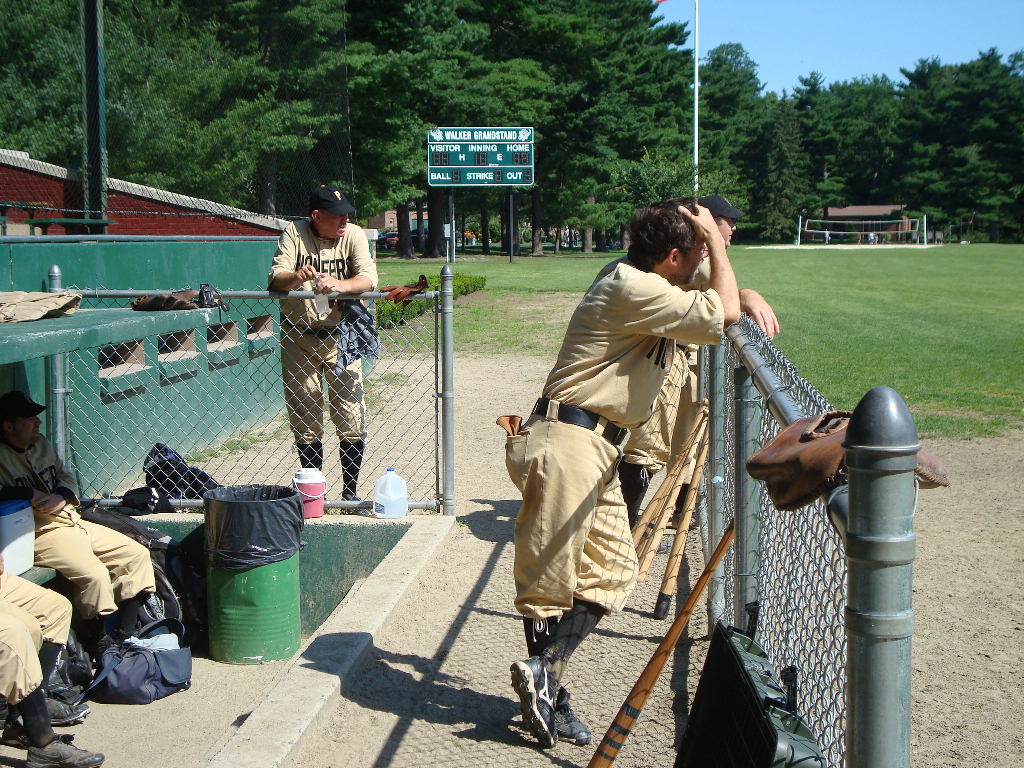 We got right back in the game in the 5th with a clutch Grass double with two outs, to tighten the game up at 3-2 Meddowe. Termie was shutting the Meddow e down and after 6, it was anybody's game.
The heart of Meddowe Murder's Row came up in the 7th and pounded 3 hits and a SAC fly for a pair of runs. That big 5 hitter demolished a Terminator fastball for a 3 bagger. We went quietly in the 7th and Turk came in to pitch in the 8th. A decision Buck and the rest of the Pioneers would live to regret.
Turk is Hurt
Turk came in for a recreational mop up inning, and right away, he was in Dutch. A single, FC, muff and single. Only 4 batters, but it seemed to last for an hour. All the messy things that can happen in a Vintage game were happening. Mercifully, the single by Bear turned into a circus with Bear getting thrown out at 3rd and Judge getting rubbed out on a muffed catch by our catcher and a nice recovery and a throw to Turk covering for the 3rd out. Too bad Turk broke his LEG!
To be continued...
Meddowe 7, Pioneers 5
On to the VBBF playoffs and World Series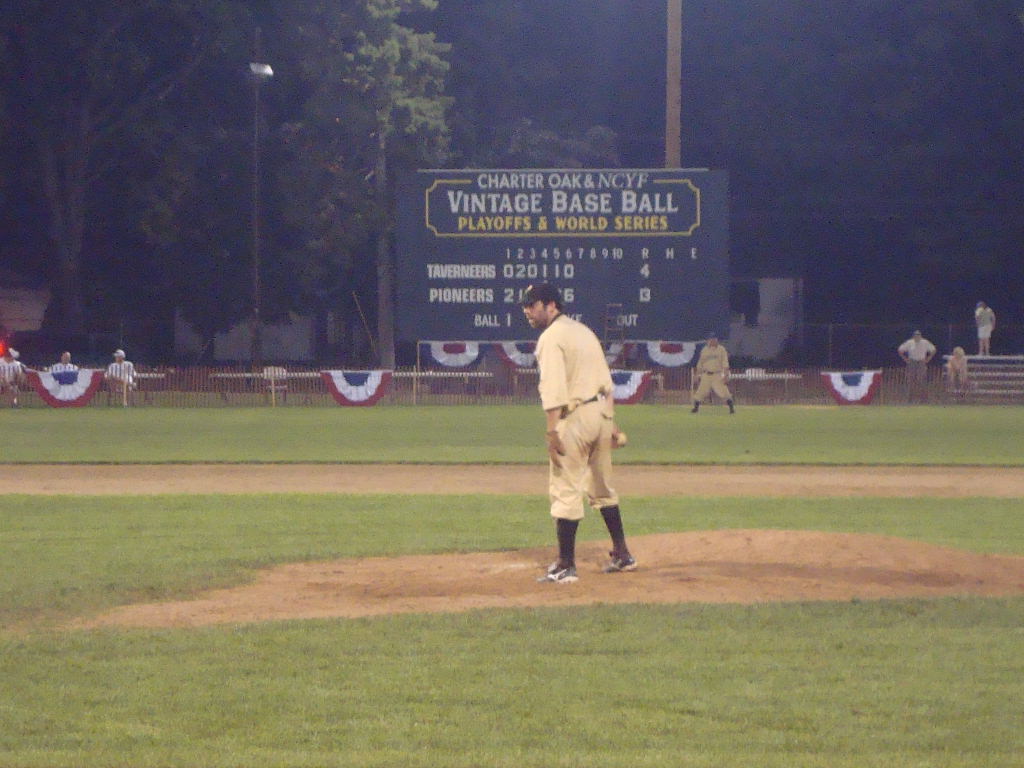 Oh baby, we worked hard, played double headers in parks 100 miles apart on 100 degree days, broke fingers and consumed all our free time, to be here...prepared. Prepared to play this game hard, smart and right. The Whately Pioneers have returned to Bullins.. retooled...i said retooled...
Taverneers vs Pioneers July 19, 2008
WE, are as good as the Simsbury Taverneers, and intend to beat them. Taverneers, let me introduce you to The Terminator.
After winning the coinflip, the Whately Pioneers took the field. Let's get this going!! Termie struck out leadoff batter Kelly, but he reached base on the ensuing muff. Termie turned up the heat and got Van Dyke to sky to Turk in center garden for a big out. A bouncer and a resounding K of Gonsalves, the cleanup striker for Simsbury, and we were heading for the dugout, and out bats. Termie picks up his teammates like this routinely.
In the Pioneer 1st, Pop, Spider and Connie garnered hits for 2 Aces and when we headed to the field for inning 2, we had a 2-0 lead. Just like we planned it.
The Taverneers weren't about to give up, however. Hoss reached on a muff and Muzz struck a ball that is still heading to the Moon. To make matters worse, the next 2 strikers reached, and with no hands down, we were in a jam. Connie then threw out a Taverneer batter on a close play. Termie struck out the next striker and Albie took care of the third out with a nice 4-3. The damage was controled. Back to work.
Albie hussled out a muff-7 and scampered home on Hammer's 4-3. This was a big, big Ace. We got right back into the lead. Another thing about Termie; he knows what to do with a lead. We spent about 3 minutes defending the 3rd inning. 1. Pop to Pop (outstanding play!), 2. Strike 3! to Gonsalves again! 3. Skyball to Connie.
Pioneers take control
We stranded Pop and Spider in the 3rd, after they led off with safeties and the Taverneers fought back to tie in their 4th. With 2 outs, and a Taverneer at 2nd, the Taverneer striker, Stretch, lined a ball at Grass in left like it was shot out of a cannon. I don't even have to explain why this is kind of funny. As time slowed the play
down into a nice slo-mo action shot, we all watched Grass see his very first line drive, with a man in scoring position, in a big game. I would love to have the audio recording of his mental soundtrack. ...oh, s#*t ... must catch... pain soon...pleezegod...i see it...maybe...got it...no! ball on ground..termie hates me....crap!...throw ball...
Maybe Grass will catch the Vintage Virus next year. We hope so. Anyway, no worries. The Pioneer 4th was productive as Pop's bomb, his 3rd safety plated the always interesting Dentello for a 4-3 lead. The see-saw action continued in the Taverneer 5th, as the scrappy Simsbury 9 cashed in a muff and a single for the Ace and the tie. This is the last hurrah for the Taverneers however. It was bombs away in the Pioneer 5th as Termie, "Mike", Dentello, Grass and Turk raked away for a 7-4 lead. It was a lead we would not relinquish.
Spider, Nails, Dentello and turk would finish the job on offense and Termie would take care of the Taverneers. When the dust settled, the Whately Pioneers would advance to the big rematch with the Springfield Mass Mutuals. I think we all felt we would win this game, and we did. I think we also thought the game with the MM's would be a war....and it was...

Pioneers 13, Taverneers 6
Whately Pioneers vs Mass Mutuals July 25, 2008
Money Time...
First the injury report: Buck's hand has been hit by a Romulan disruptor. He is useless. Turks leg is even worse, he can barely run. Hammer and Supe have sore hands, but a few shots of Ole' # 5 and they will be fine. However, we have Bullet back. That is a big, big plus.
We won our second straight coin toss. Buck is feelin' it. Termie on the mound again for the Whately 9 and his first inning of work was quick and efficient. A nifty catch by Pop on a pop up near home plate set the tone.
With 2 hands down in the Pioneer first, Spider, bless him, singled. Bullet then laced a classic bullet opposite field liner to right for a double. Bullet couldn't keep his foot on the bag and was picked off on a nice throw in from the man in right garden. But we had a lead, and we would add on later...right?... right?
Wrong. For 7 innings, Terminator and the MM hurler pitched zeros. There were no muffs, and 5 base hits spread out over 12 half innings. After 7 frames, the score was amazingly 1-0 Pioneers. Can you have a Vintage game with only 1 run scored. This is unheard of!!
Six outs to the World series...
Ah, if it was only that easy. The Mutual 8th started with a chopper to termie's right. We all have the video of this in our heads from various angles. My angle was the dugout, where I and my dead hand belonged. You could actually feel the tension in the crowd. It was the sound of nervous fans being still and attentive to a drama unfolding in front of them. This striker reached, and I could hear the crowd collectively say , "aahhhhhooooo".
With the game on the line, Termie struck out the next batter as the Mutual who reached stole second. The next Mutual striker sent a handle flair to deep second where we almost snagged it, but it fell to earth as the Mutual came around to score and tie the game. The crowd was now making more nervous sounds, they were mostly rooting for the Whately Pioneers. It was a new game. Spider took down two tough cloud poppers and we were out of the 8th, but now we have to go win the game again. In the 8th.
Albie started the 8th with a sharp liner to center, a sure base knock. But wait!!! The Mutual made a diving tumbling catch and held the ball to the astonishment of all, once again, more crowd noise. Cheers and gasps. Big Mo' is smiling on the Mutuals! With 2 outs in the Pioneer 8th, Bullet wacked another double to right, and was 90 feet from home when Dentello lined out to right garden. Close, so close. Now, the 9th.

Three more 9th inning muffs and a Bear Sheehan double plated 4 more Aces for the Mutuals, and a 5-1 deficit was facing the Pioneer 9 with 1 last at-bat. The last Pioneer hope was a Kid Ace aided by some past balls, but the game ended 5-2 Mutuals, and the Whately Pioneers are done in the VBBF until '09.
Somebody wins and somebody loses; but this game was an honour to play in . I don't think any of us will ever forget this base ball game.
Mass Mutuals 5, Whately Pioneers 2
The regular season resumes...The Skipmucks... matches #3 and #4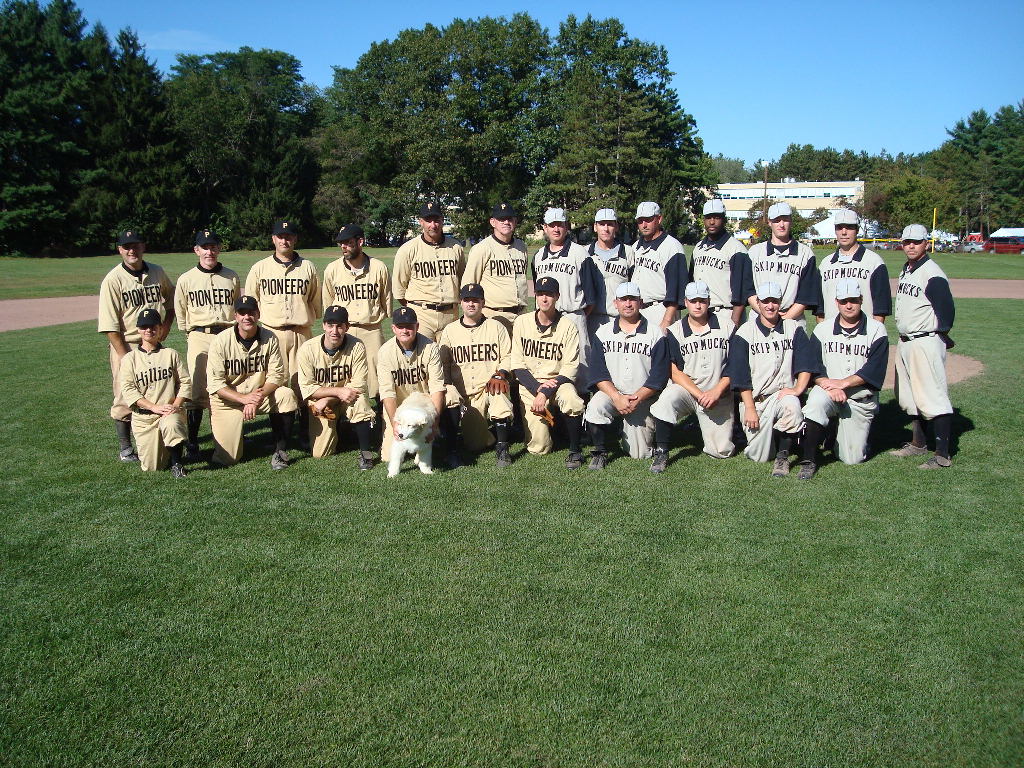 We wrapped our 2nd season with two games with our friends the Skipmucks. This is, as I have said, our favorite team to play. With all the rain we have put up with, it was great to have superb weather and playing conditions for our last two games.
Old School, Thunder and Beer frame put on a hitting clinic and we were thumped pretty good in match #3, 15-8. I love watching Old School play. He is an Ace. But, we had a great Beer Inning and went on our merry way. But, we put the game film on the team bus, for later study...
Match #4 was at Daly field, and was part of an Easthampton Town celebration. You couldn't ask for a better day. The last day of Summer, and the Pioneers were raring to go. I remember this game for the great weather, our up and down the lineup relentless offensive assault and defensive plays by Connie, "Mike" and Newt. This is the team we want. I think it is finished. Now, all we have to do is keep working and getting better. When you figure out how to play the Vintage game at a reasonably high level, it sure is fun. Opening day is April 18, 2009. That is 195 days from today.
For the record, the 2008 Whately Pioneers had a record of 6-8. We played in 5 Towns and entertained approximately 1500 Cranks. We sustained 2 major and 5 or 6 minor injuries. We won and lost a playoff game. We seemed to have a real good time doing it. See you in 2009
Huzzuh,
Buck