Whately Pioneers vs. Chicopee Skipmucks at Herlihy Field 4/10/11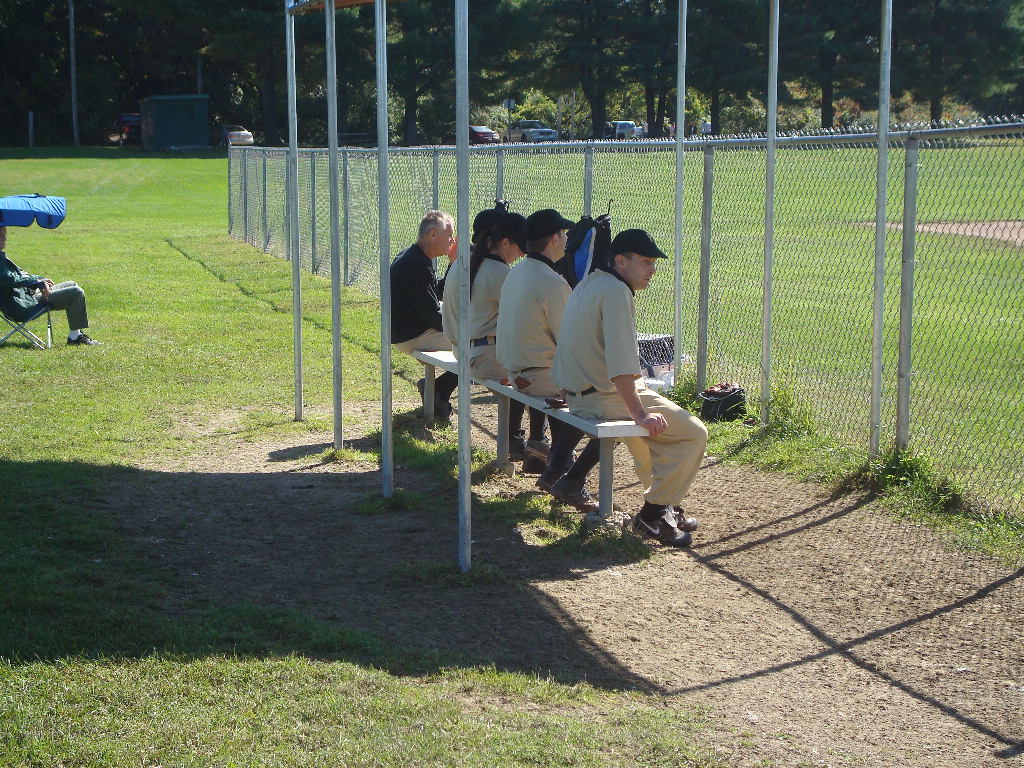 The Whately Pioneers opened the 2011 Season on a fine cool day at Herlihy with Dog doing the Home Team hurling vs our friends and rivals the Chicopee Skipmucks. The last time Dog hooked up with the Skipmucks, he was the winning pitcher in the Gentlemen's Cup final game of the 2010 Season, pitching a Gem in S. Hadley.
Technical Difficulties
It's very early in the year for Herlihy Field, so technologically it really IS 1886. It's about a week or so too early for running water and electricity. ALSO, it's early for the Pioneers, because at game time we had no grill for the beer inning and were seriously short of outfielders. But the Show must go on, and Go on we did. Several Garden Variety muffs and a broken hand later, the Whately Pioneers were safely in the Home dugout, but down 3-0. The absence of the Grill was weighing heavily on the Pioneer 'minds'. This was a disturbance i n the Force. But, the Pioneers are tough, and we stiffened up to get the game right side up again. Dog was knuckling his way through the pretty damn good Skipmuck lineup. After 6, the Pioneers were only down 6-4. Nice job Dog.
The Last 3 Frames
Ordinarily we would have the bullpen getting loose in the 7th, especially against a good League opponent, but Dog had to take this one all the way out. A few more muffs and a few good swings by the 'Mucks and the game swung Chicopee's way. A good day at the ballpark, if a bit bloody. On to Manchester! HuzSaKi!!


Whately Pioneers
AB
R
H
RBI
BB/HBP
HR
Ski
5
0
3
Babe
4
1
1
0
1
Spider
4
2
2
0
1
Ricky Bobby
5
0
1
4/10/2011
Mustard
5
0
1
Albie
5
0
2
Nails
5
0
3
Grass
5
0
1
Buck
5
1
2
43
4
16
0
2
0
Team
1
2
3
4
5
6
7
8
9
Score
Chicopee Skipmucks
3
2
0
1
0
0
2
1
4
13
Chicopee Skipmucks
AB
R
H
RBI
BB/HBP
HR
Whately Pioneers
0
0
1
0
0
3
0
0
0
4
Meat
Beer Frame
Stoned
Thunder
Angler
Snake Oil
Councelor
Lightening
Amstel
Ginger
0
0
0
0
0
0
Whately Pioneers
IP
H
R
"E"R
BB/HBP
SO
Dog
9
13
Chicopee Skipmucks
IP
H
R
ER
BB/HBP
SO
Angler
7
4
thunder
2
0