Corona Crew completes SWEEP!
Take 3-2 pitchers duel
Ump Flockerzie calls game, Pesci away "On Business"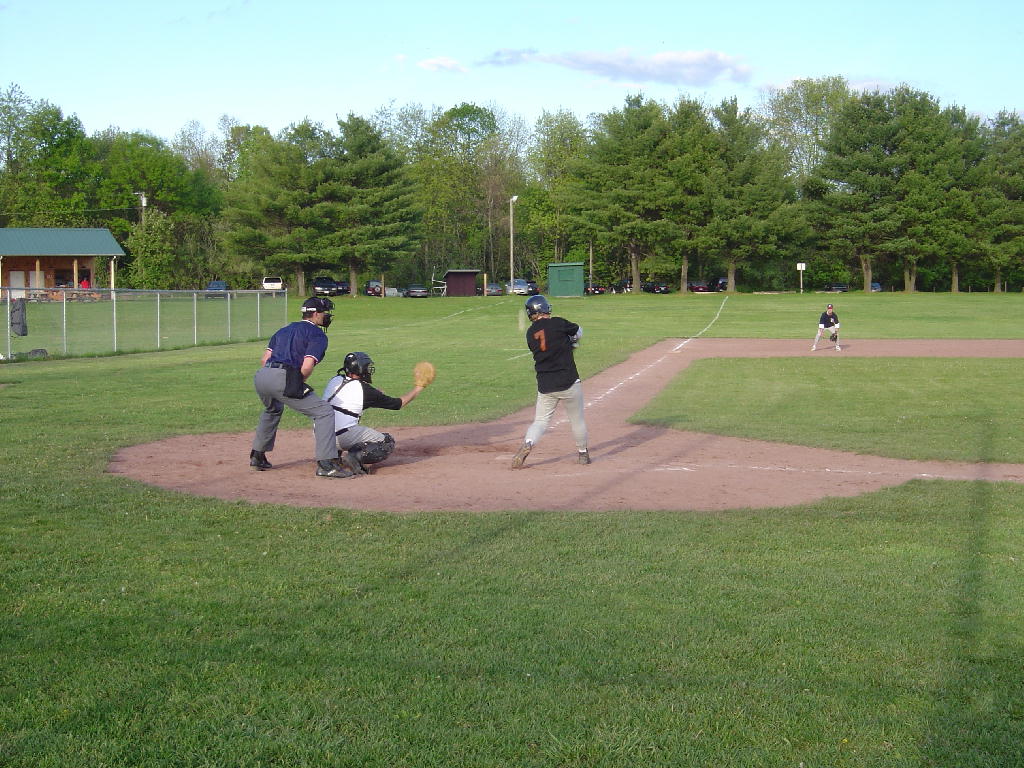 Piersall takes big Hack for Victors
May 19 , 2005 Herlihy Field, Whatley, Mass.

The Corona Crew gathered their 3rd close win over the Ponce de Leon Juans Thursday, to sweep the opening TNB Series. Once again, the Juan's bats were silenced by the arms of Sloat, Dark One and Max.
SuperJ and Pres tried, again, to shut down (2 Live) Corona Crew , and for the most part did. But in the 2nd, Johnny D knocked in Nightman, who singled opening up the inning. But the Juans, just like last week, jumped immediatly on the Crew. Two Crew boots were converted to tallies by a clutch Wally single. Wally had a pretty good series at the plate.

The Crew, smelling sweep, tied it up in the bottom half of the third. Max started the inning with a leadoff single, and with 2 outs, Nightman plated him with a ribbi double. Nightman too had himself a good series.

The 4th was a quiet inning, with only a SuperJ single the total offence for the frame. And when the Juans fell meekly, again, before the serves of Nightman in the 5th, the Crew struck again in the bottom half.
Bill DeSanty hustled out a E-5, was moved up by Maximus!, and plated by the clutch Aa with a single to left. The Crew had their second lead, 3-2, and this time they'd keep it.

Max and Pres scattered a few singles for the last 3 innings, and with the days getting longer, the game went 7 1/2. But in the end, the Crew was the better team, this time. The Crew sweeps the series 3-0 and will be an entry into the Dome Cup this October.

Game Post Script:

Welcome to newcomers Jeff Coleman and Mike Olkin. Wally and SuperJ had hot sticks for the vanquished Juans. Steve Olkin's first 2 TNB at-bats were hits, including a ribbi double. Hammer had a big game 2. Max, Nighter, Kenny and JD came up BIG for the Crew.

See you Thursday!

Random Thoughts:

Has Nightman transferred some of his Power to Kenny and Max?