Willie returns...lifts Big Blue to victory!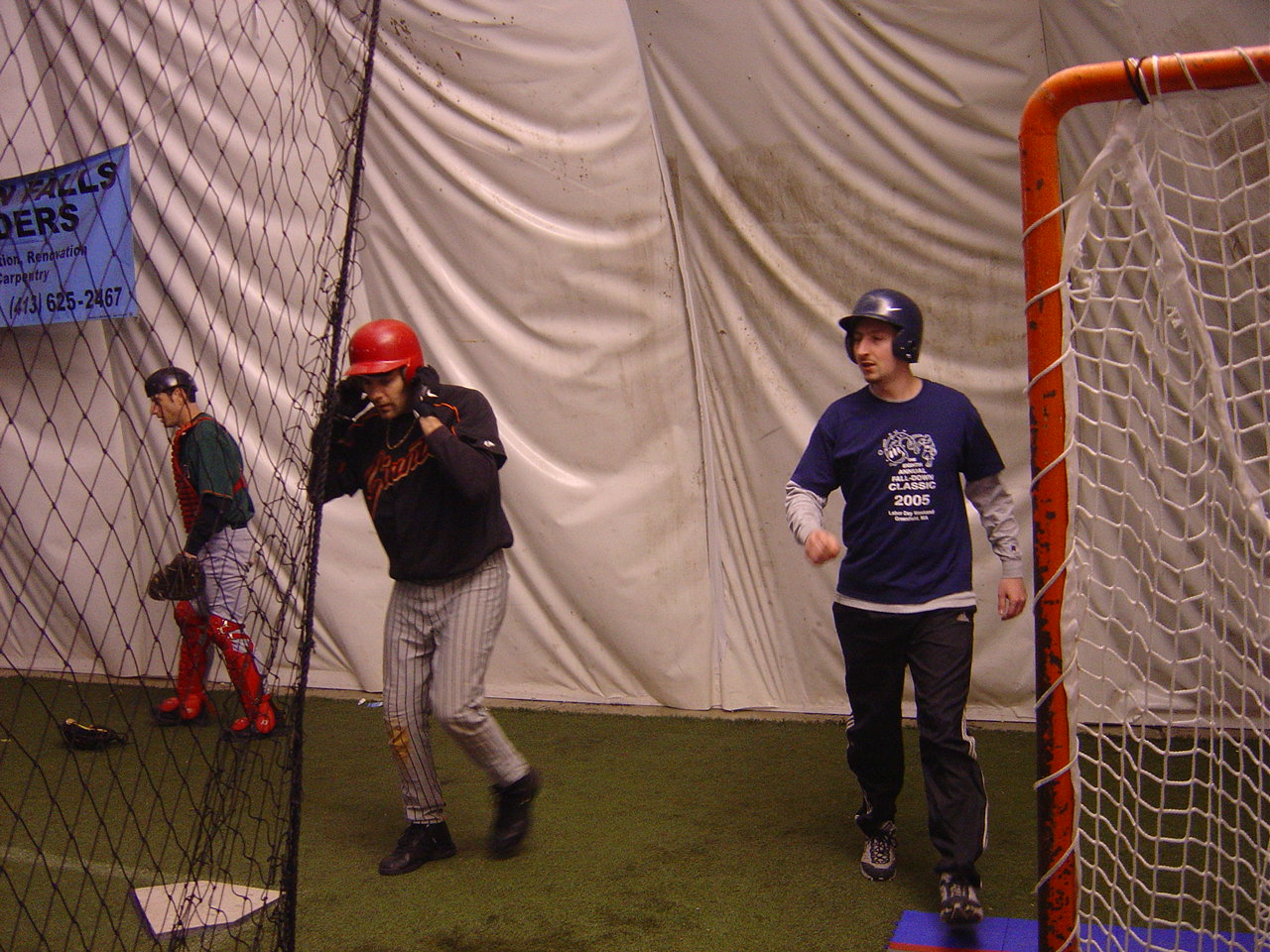 Torrent of RUNS begins in First Inning...Tony and Clint score first of 37 Tallies
Mike Wilson returned to the Dome with a bang Monday night, blasting two hits, one for the game-winning run to help Big Blue take the rubber match of the computer series 3-2 against W.O.P.R. It was a far cry from a pitchers duel Monday at the Dome as Big Blue came from behind and nipped W.O.P.R. 19-18 in 7 grueling innings.

Play ball!
Supe started the game for the hometown Blue's and had no trouble setting the visitors down in order.
W.O.P.R.'s Duse didn't fare as well in the bottom of the inning as he gave up back-to-back singles to newcomers Tony Barber & Clint Wells. Clearly upset by this, Duse's next pitch was a fastball aimed at taking Supe's head off. After escaping near death, Supe would work a walk to load the bases.
Taking a deep breath, Duse recalled the words Natalie had whisper to him mere hours ago: 'Get out", she had said. And that's just what Duse did! He got Duke to fly out off the dome roof for out number one, and then caught Joe Leblanc looking at strike three for the second out. Just as he was about to escape unscathed, Hector ripped a shot into left center, scoring two. Supe would then steal third, and execute a double steal as Hector headed to second, Supe stole home to give the Blue's a 3 run lead.
In the 2nd, Supe once again would have no trouble, facing only four batters and allowing only one hit to Mike Miller. The inning was highlighted by Hammer's barehanded catch of an off target throw by Duke at shortstop. "Hammer saved me on that one", said Duke. "That play was fantastic, it's sure to make tonight's Top Ten on ESPN", he continued.
"Pitching is easy", said a happy Supe.
Well...maybe not
Mon Capitan took over for Duse in the bottom half of the inning and was impressive striking out two and picking off Willie at second who had reached via a walk and stolen second base (once Pesci found where Willie stashed it, play was resumed).

Supe's right, pitching is a piece of cake", commented Mon Capitan.
Supe exits ERA race
It was bound to happen sooner or later, the Cinderella story of the season was about to come to a crashing end.
As Supe took to the hill in the 3rd, the W.O.P.R.'S unleashed a barrage of hits. Nightman and X-man would single, then Mahan walked loading the bases, and Steve Chapman blasted a shot to right scoring two runs. Termite followed with a bases loaded walk, but was erased on a FC for the first out, followed by a Duse ground out. Mike Miller continued his hot night at the plate lacing another single, before Capitan would mercifully ground out right back to a disgusted Supe. Five runs would score to give the W.O.P.R.'s a 2 run lead.
"Pitching sucks", exclaimed a dejected Supe.
The Blue's closed the gap against Capitan in the bottom of the third as Barber would single and score on Supe's double to cut the lead to one run.
"One run isn't too bad; at least I didn't give up 5", said Mon Capitan.
Duke relived Supe in the fourth, and despite giving up a single to Icehouse; he was the only pitcher to not give up a run all game.
Big Blue Unleashes Bombardment
Capitan had a severe case of giveuprunitis in the bottom of the inning as a staggering 17 players would bat, and 13 would come around and score. Hector and rookie Mike Chapdelaine started the inning with two singles, Mediocre J would reach on a stinging line drive off on Termite's glove, and Hammer would then beat out an infield single, scoring Hector.
Willie would hit into a fielder's choice for out number one, but it would also drive in Mike Chap. Mike Olkin walked forcing home Mediocre, and Joe Wrona reached safely scoring Hammer in the process. Barber and Clint both singled, Supe walked, Duke & Leblanc singled which was enough for Mon Capitan, as he handed the ball off the Nightman.
"He's right pitching does suck", said Capitan.
Clint..Mike make Mound Debut
Nighter walked the first batter he saw, Hector, in his second at bat of the inning, and gave up an RBI single to Mike Chap, before striking out Mediocre for out number two. With the bases loaded, Hammer would then clear them on his second single of the inning. Hammer's line for the 4th inning would be 2-2, with 4 RBI's.
Then Willie was robbed of extra bases as Terminator dove and snagged his line drive on beautiful catch to mercifully end the inning.

Clint Wells made his Domeball pitching debut in the 5th, and things looked promising as he struck out the first batter he saw. Trouble would set in however, as Termite would walk, and then Mark Chap, Duse, Miller, Capitan, and John Graves would all single. Finally a double play would allow the inning to end, but not before W.O.P.R. would plate four runs to cut the deficit.

The W.O.P.R.'s held the Blues scoreless for the next two innings allowing only a harmless single to Tony Barber and Supe, the latter being retired on a nice 6-4-3 double play batted by Leblanc.

Nightman led off the 6th inning against rookie Mike Chap, who was pitching for the first time in years. After four consecutive balls that were all close…. to beaning Nighter in the head, Mark excused himself before he killed someone, and handed the ball to Hammer.
WOPR Scratches Way to Lead...Mon Capitan's Busy Night Continues
The W.O.P.R.'s would take the lead over the next two innings scoring 3 in the sixth, and 6 in the 7th.
After Nightgown's walk leading off the top of the 6th, X-man kept his batting crown bid alive by hitting his second single on the night. Mahan would come through with a huge double and all three would come around to score. (Ed Note: It looks like Termulus and Steve Chapman had something to do with this, but the scorebook isn't clear exactly what THAT might be...)
In the WOPR 7th, Duse led off with a walk, and Mike Miller followed with his 4th hit of the night. Mon Capitan would then bring them all around to score on his towering 3-run homerun. John Graves then walked and advanced on a Nightmare single. Mike Mahan would reached on a FC, and all three would score to give them a one run lead heading into the final frame. (Ed Note: Again, it looks like Steve Chapman's handiwork..)
Welcome Back Willie
Facing a one run deficit, and the Dome's best pitcher in Terminator, the odds were certainly against the Blue's.
Mike Chap continued his sterling debut with his 3rd hit of the night, a lead off double. With the tying run in scoring position and first base open, the Terminator continued his one-man assault against Mediocre J (breaking his ankle way back in domeball game #1, and almost a second time last season) by drilling him on the first pitch.
"Look the ball just got away from me", lamented Terminator. "There is no way I'd want to put the winning run on base", he continued.
With runners on 1st and 2nd and no outs, centerfielder Nightman harkened back to his little league days and tried the seldom-successful centerfield pick off play. As Termie whirl to attempt the pick off, the ball skidded past Nightman and into the centerfield triangle. Chap would score and Medicare would hobble safely into third. Hammer then grounded right back to the mound for the first out, which then set the staged for the Willie heroics.
On the first pitch he saw Willie laced a line drive into right center for the game-wining hit. As he came off the field Willie was mobbed by his excited teammates and the press following the clutch single.
"I was just looking for a pitch to drive somewhere", explained an intoxicated Willie after the game. With only one out in the inning and with Medicare's speed, even a fly ball would've done it".
So with the computer series finally in the books one can't help but wonder if some data tech will re-boot the series all over again, a challenge to the winner has been thrown out from V'ger....