M & M Trail Section 18 pt 3
Richmond Rd., Northfield to White Hill..into New Hampshire!...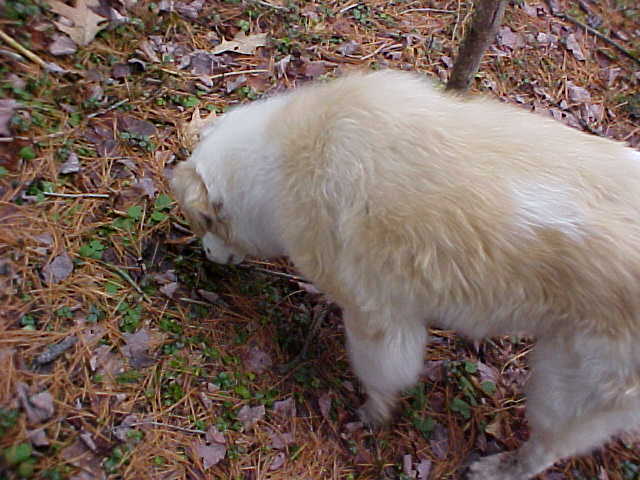 November 30 , 2003 (ed. note: We ended the 2003 hiking season in N. Ma. after briefly hiking across the NH border).
The M-M crosses Richmond Rd. in Section 18 and continues on a dirt Rd. (Smith Rd) and forks at a house. Due North is a dirt semi maintained Toad Hollow Rd. and due west is the M-M trail, just below Mayo Hill. That's where Bug and I are heading, that is, as soon as Bug and the local canine he just met finish their greeting ritual.
The Hike
This first stretch was basically a logging road with marsh and Beaver Ponds on either side. The day was raw and cold, but no snow yet, so it's a hiking day. This is rural New England, my second favorite part of the world, and Bug stopped for a good whif of bear scat. Invigorating!

The M-M in this stretch has interesting connections between blazed trail sections, logging roads, unmaintained old town roads and rugged bushwacking. You have to keep your eyes peeled (or you WILL lost the trail) , and having Bug is helpful, since he has a good memory. There is a deep ravine between Mayo and White Hill leading to a flat stretch of trail on the NH-Ma. border where you get a clear view of Mt. Monadnock. This is always thrilling to me. Not stupendously mind blowing like near the Continental Divide, just beautiful. We stopped.
Right about here we heard a volley of shotgun blasts, reminding us that it was hunting season in New Hampshire. This is an occupational hazard during hiking season in New England. Before we hit White Hill there was another descent to a Brook, with an 'primitive foot bridge'. No Lie! Bug wouldn't cross it, after giving it some thought, since the brook was overgrown and trench-like. I carefully tightroped over the 'primitive bridge' and bug ran down the raving 30 or 40 feet and found a spot he could jump. Smart Boy. Good looking too.

Near the top of White Hill there is an interesting sign. Treemont. This sign was our turnaround spot since we had to hike back to our ride at Richmond Rd. We were near Bliss Hill Rd. on the Warwick-Royalston Ma. border. Bug told me he had a great time and it will give him something to think about at work this week. Next weekend he plans on hiking on Rocky Mountain in Greenfield, Ma with his friend Willy.