M & M Trail Section 19
Falls Brook and Green Woods Rd. Richmond, NH to Newton Cemetary Route 32 Royalston, Ma.
November 14 , 2004 (Ed. note: new camera this year)

Today's hike was a short one to check out the Falls Brook Valley, home of the potholes and High Falls. The M-M follows the Brook due North into New Hampshire, intersecting with Green Woods Road. On an earlier hike, this past summer, we hiked the section from Rt. 32 in Royalston, through Newton Cemetary and down to the High Falls. It was pretty buggy, as usual, so we decided to hike the valley in cooler weather. We are going to hike North to South, Green Woods Road to the Shelter above the wood bridge near the Pot Holes.
Today, Sunday, we got off to a late start, but this hike should only take 90 minutes at most. The first flurries of the year are coming down, alternating with streaming sunshine but I have a feeling that this will be a long hiking season. Falls Brook pours down through this valley, and has been doing so for thousands of years. It pauses to becomes a pond near Green Woods Road before crossing into Massachusetts, carving caves and potholes into the limestone it flows over and through.
Bug was in an especially good mood today, even for him, and was staring straight ahead through the windshield from his customary shotgun seat next to me. He had been waiting all day for some action. As soon as I opened the car door on Green Woods Road he hit the trail, and was off. If the trail is pretty obviously human, he knows where we are going and will sometimes take off ahead of me. Today was one of those days. I'll catch up and pass him, then he'll pass me. Sometimes he'll stickfight right past me.

Just above the Falls, the Brook creates a series of potholes and steep switchbacks that are tricky and potentially hazardous if you don't watch your step. You can also lose your way. We got briefly lost again today. Sorry Bug, my bad. Just beyond this, you cross the brook on a wooden bridge and come to an Adirondak style shelter. This one even had a utensil or two. (Somebody stick a knife in the wall.) Bug inspected the premisis before we moved on. There would be 4 more weekends of hiking in 2004 which makes it a good year; one that I would love to go back and relive a few more times. I might change a couple of things, but not many. Well, it's getting dark, gotta go.

Green Woods Road Richmond, NH to Rt. 119 Richmond (4 corners) 11-21-04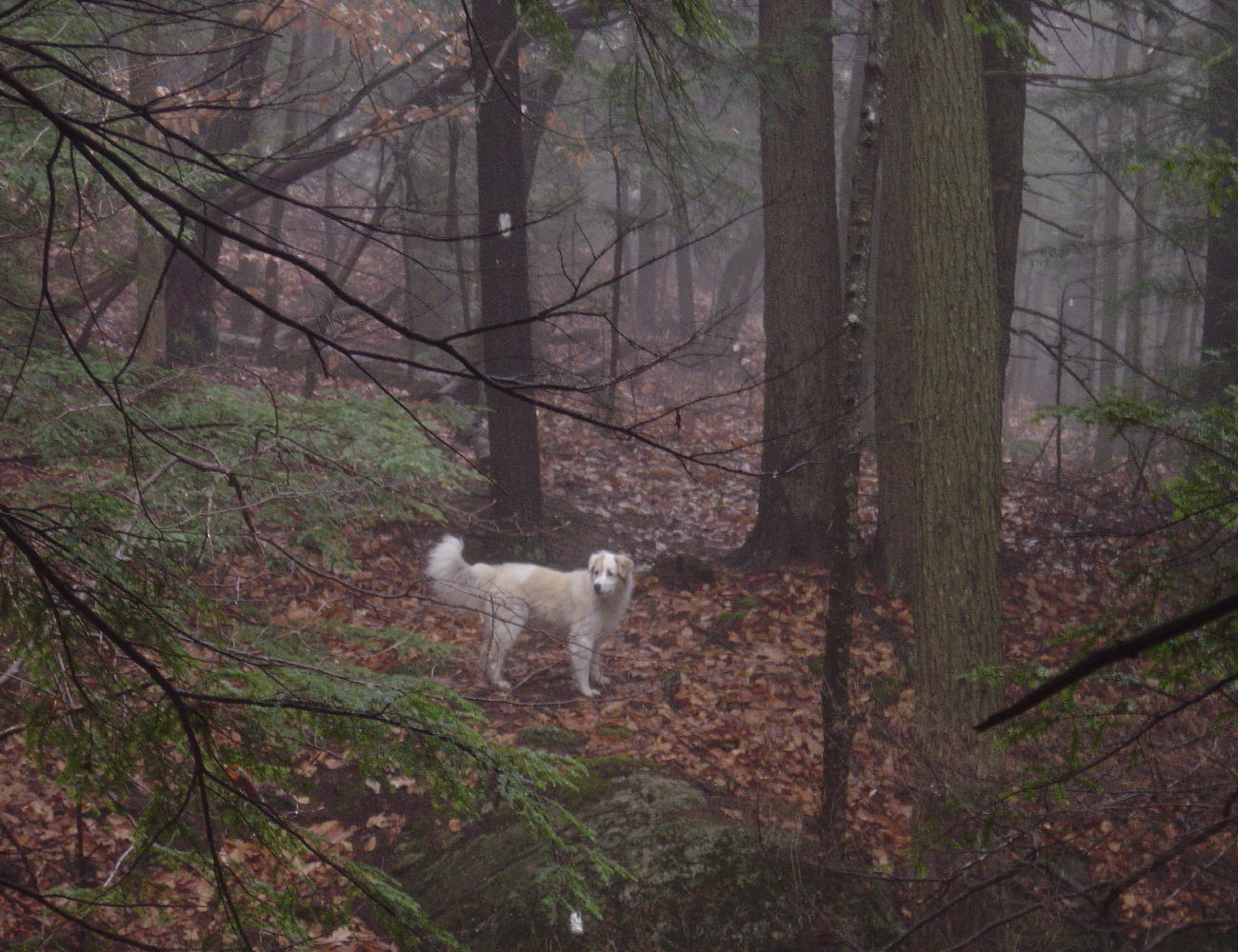 Some days are overcast and dark in November. In this case, you have a mind over matter day. If you don't mind, it don't matter. And, like always, the company is great.
We begin the hike right across the road from where we started last week on Green Wood road, and parked the missionmobile in the same spot near Falls Brook.
This section heads north on a good logging road and soon forks left and heads up hill . The trail follows the hill ridge on the west side. On the other side of the hill there are the remnants of 'old ' Monument Road; what used to be the town road is now a trail for snowmobiles and deer. The trail on our side dwindles to an ascending footpath, and as usual, I get me and Bug slightly lost. And, as usual, I get us back on the trail. OK, Bug gets us back on the trail. I stand corrected.
As well as being dark and a bit dreary, the weather was unseasonably warm, especially after we started up the ridge. (The snow from last week was melted, and would bode well for hiking the next three exciting weekends.) We stopped to rearrange the my clothing situation giving Bug a chance to find the 4 biscuits I had in my pouch. Smart Lad. Fog was collecting in the various gullies we would pass through, and the recent snow melt filled up the various small brooks that were crisscrossing the hills. There were old stone walls and signs of long ago homesteads scattered here and there. Like Catamount Mountain, I find it easy to imagine a hard New England life here in 1800.
Eventually we came upon an intersection of dirt roads. These are Monument Rd (here it turns back into an 'unimproved' dirt road heading to 119 NH), Royalston Falls Rd (unimproved, heading south along the high ridge on the easten slope towards Green Woods Rd.) and two nameless tracks. We hooked right and followed Monument Rd. for awhile until we came to a house. Route 119 wasn't far ahead and we decided to head back to Green Woods Rd. the way we came. As we headed back we noticed the 'Closed Rd' sign, indicating the end of normal inhabited space.
Next week, Little Mt. Monadnock