Updated: December 22, 2009
Sources: The return of Icehouse?
ESPN.com
Archive
In a surprise to all the legend in his own mind Icehouse showed up to play in a TNB Domeball game this past Monday night. Equally surprising he was 30 to 40 pounds lighter.
Icehouse had abruptly left baseball in the midst of the PVOTB Cubs 2007 championship season for reasons undisclosed at that time. The only comment from his agent at that time was that the "league had rules" and "the decision was in the best interests of the Cubs organization" to finish the season without him. Icehouse had briefly signed with the MSBL Mariners for a 7 game contract in 2007 that did not work out and was waived shortly thereafter.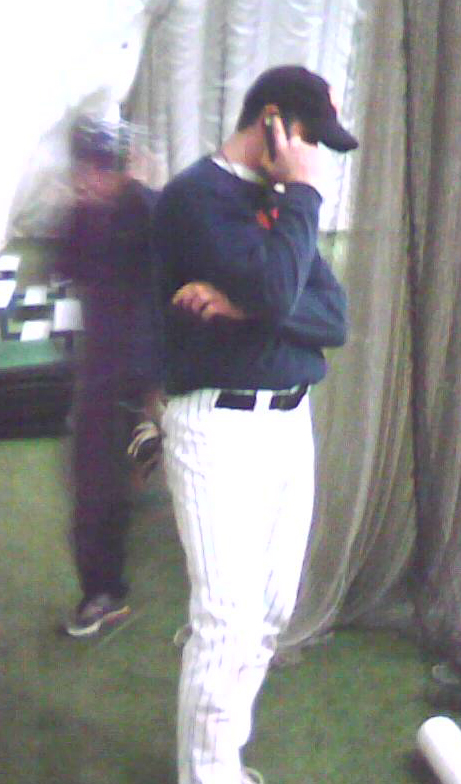 Seen here on Monday night is Icehouse's former player/manager Supe talking to his agent when he saw the former power hitter had returned to the Dome. While Supe publicly acknowledged in the past that there would always be a roster spot for Ice, it was always agreed he would have to be on the straight and narrow if he returned.
Sources within earshot of the conversation, who did not want to be identified, said the conversation "did not sound positive" as Ice has been extended "numerous" opportunities in the past.
Icehouse's career has been peppered with unproven allegations of substance abuse, including performance enhancers. He filled the 4 spot on the Cubbies roster, often terrorizing opposing pitchers by taking their outside pitches and curveballs to the opposite field.
Fans had thought he had finally found the right fit on a team after the PVOTB Mariners honored his request for a trade to the Cubs after the 2006 season, which was also tainted with other teammates violating league rules including age restrictions and poor sportsmanship.
The last time Ice played was in the 2008 Baseball International Tournament. He has never lost his spot on that team although and historically played well in those tourneys.
He was welcomed pregame at the Dome by prior teammates and other players who were shocked at his physical stature. "..He has lost quite a bit of weight" said one former teammate. As another said, "I've never seen him in better shape." His pregame BP was promising although his power swing was clearly gone.
The game play was a different story. Pitcher Bullet mowed him down on the third pitch, chuckling "…welcome back to the bigs pal..." He then finished him off with a 1-2 curve. Ice finished the game a dismal 0-3 and performed poorly in the field as well. Opposing centerfielder X-man said, "I used to play him at the wall. I wasn't even worried tonight. This is not the player I once knew."
Icehouse left with little fanfare. The once fearsome 260 pound player was hardly a threat during the game, and as one anonymous critic stated, "To call his play tonight pathetic would be a compliment."
Ice's agent's only comment was, "I tried to find him work in late 2007 and couldn't get it. I tried to get him work in 2008 and couldn't get it. Now here were are in 2009 and no team is interested. Tonight didn't help. What else can I say?"
The Nor'easter player/manager MonCapitan confirmed Icehouse would be returning to the 2010 BB International Tourney but did not disclose terms or conditions of play. "I don't consider tonight a big deal" he said.