Bug and Buck...Gap Mountain Sec. 21...Summet of Mt Monadnock Sec. 22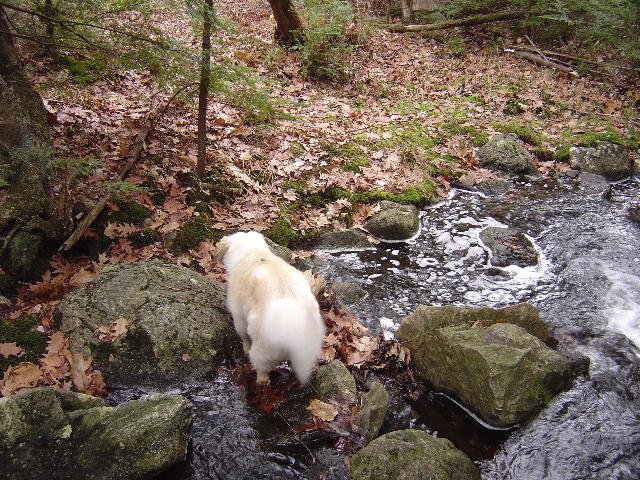 Troy NH over Gap Mt. to the foot of Mt. Monadnock...December 5, 2004 M-M Trail Section 21
This section of the M-M Trail takes you from picturesque Troy, NH, to a trail that heads out of town and treks up and over Gap Mountain. After ascending the Mountain, you stand on a rock plateau and can look forward to Mt Monadnock, and back (south) to Little Mt Monadnock. This was one of my favorite hikes because of the amazing views in all directions. We also came across 6 huge anthills about half way up the North side. Truly weird. It also gave us a good look at next week's hike; up the M-M to the top of Monadnock. It looks a little daunting. And, as it turned out, it was!
Up Mt Monadnock....December 12, 2004 M-M Trail section 22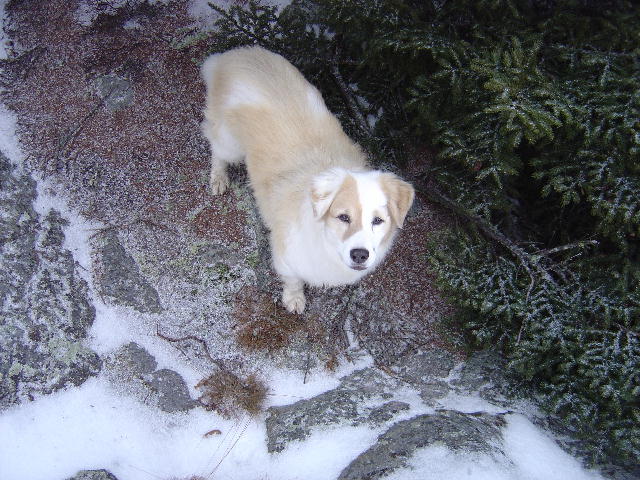 After stashing the TrekMobile on Rt 124 near Jaffrey, NH, Bugs and I headed up the side of Monadnock on a cold overcast December morning. It was snowing lightly. The trail heads straight up, following a rocky dry creek bed. I was wearing my usual assortment of multiple layers of turtle necks, sweat pants and sneakers. Bugs had his righteous winter coat. The trail is a bit tricky here and you have to be careful not to lose track of it.

I had to lift Bugs over some of the tougher obstacles; icy boulders etc, but he was up for it as usual. The picture to the right was taken very near the top. As I was standing on the icy ledge wondering how both of us were going to manage getting up this last climb, I looked down and we made eye contact for about 30 seconds as we together thought this through. Just like we always do. I had to hoist Bug up the last steep and icy ledge. Then we had a clear shot over the frozen summet.

Below are some pictures of the trek up. I hope you enjoy them. On the way up, we passed by a guy who was heading down the trail from the top. He was wearing crampons and had full Alpine climbing gear. 'Nuff said.