Nor'easters on the Road
Nor'easter Cards go Cold...Real Cold

Revenge of the Wallbangers

"Here I lie gagged & bound
badly decomposing, just waiting to be found
under a bridge covered with ants & louse
sorry I messed up the reservations at the Beach House"
Richard Fleurent "Sorry I wrecked your Good Time" from Volume II Quaalude Collection *
Life has ups and downs, and as good as life is for a Nor'easter, it was time for a little rain to fall. We just didn't expect a Monsoon. Flushed with another Victory, off the undefeated merry band went, to eat a nice lunch, cool off, and shower at the Clubhouse. What a luxury! I knew we would be in for a good game on field 4 vs the Wallbangers at 1pm. Harvey had added some new recruits to the Wallbanger 9, and they were up for a rumble. We beat 'em at the Stadium last year, and Harvey still considers MonCapitan and Fluff traitors for coming with our own team, MonCapitan's Nor'easters. Harv believes that he can fire a player, but a player can't leave his employ until he says so.
When I got to the field, MonC told me I had the start, so I went to the bullpen to warm up. This is my first start since '05 and the multitude shoulder miseries. I was a little nervous, but I had a good bullpen though, and the slutter was dipping very nicely.
It's Quiet...Too Quiet
Harvey started for the Home Wallbangers, and was a little wild. With a man on and 1 out, he induced a nice DP on a 6-4-3, so we were out of there quickly. We retired the
Wallbangers just as quickly, as I took my bullpen stuff out to the mound with me. Five or six slutters, and we were outta there.
The Nor'easters almost broke thru in the top of the second, as Harv hadn't settled in yet and was struggling with his assortment of junk. Fluff, MonCap and Nails had loaded the based on 3 singles with 1 out. But Harvey escaped, again, when we banged into a 6-4-3 DP to end the threat.
We retired the Harvey 9 quickly again, on 3 slutter induced ground balls, and after a VERY quick 2 , the score remained 0-0. Both teams were waiting for something to happen. It wouldn't happen in the Nor'easter 3rd, because we hit 3 ground balls at their solid 3rd baseman off Harvey's junk, and were gone in 2 minutes.
2-Tee came on in the 3rd, MonC was being careful with Fluff's fragile shoulder, and was greeted with a single-double combo. After a pop up to Ski at short, and a walk, the bases were loaded; Harveys first offensive pressure on us. Horatio, one of Harvey's recruited ringers, then singled to right center; but a nice relay from Fluff to Ricky to MonCap rubbed out their other ringer trying to score from second...2 outs... Ricky then struck out the next batter for the third out, and we were out of the jam. 3 hits and a walk, and we gave up only 1 run. We will take that any time! But the Wallbangers cashed in on their rally, something we hadn't been able to do.
Frickin' DISASTER!
Harvey put in a new pitcher, El Guapo. He was OK but not special, and our bats remained silent, as we hit into another 6-3 to start the inning. With one out and Supe up for the second time, disaster struck. Supe stroked a hard grounder at the 3rd baseman, and as he was making the throw for his 5th assist of the game on a ground ball hit to him, Supe came up lame about 2/3rds of the way down the first base line. This was clearly an injury, a BIG problem... Our beating heart is hurt........
Supe runnin to first, comin' up limpin
We're pretty screwed, is what I be thinkin'
What, No Supe!!?...How much fun can it be??
To get run ruled, by Rosemary's Baby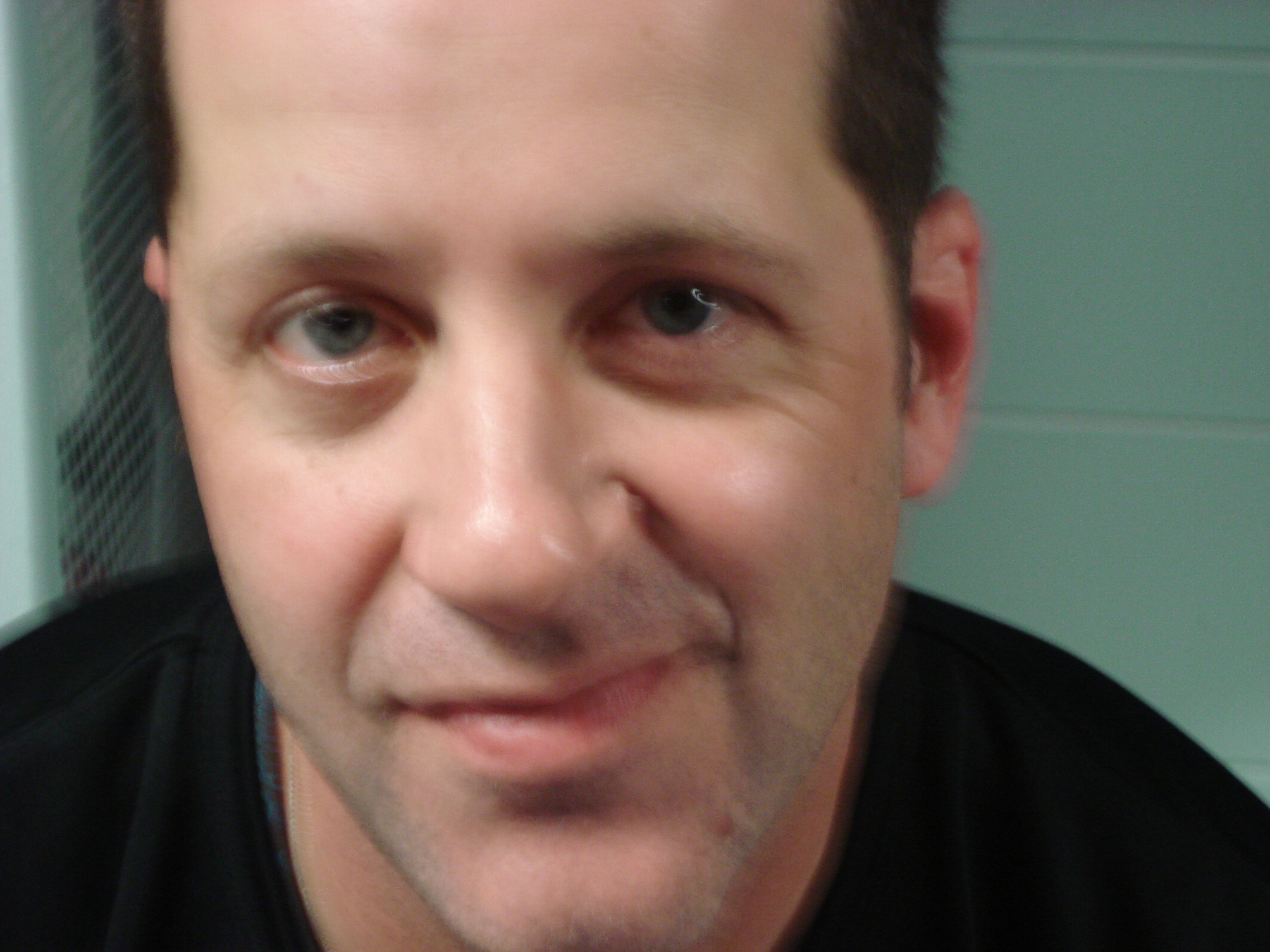 Used with permission from: The Fluffy Collection. "Like a Rollin' Nor'easter"*

Supe was done for the day, and as far as we knew, the Tournament. We were in a little team slump and a streak of bad luck to boot. In the 4th, we booted a couple of balls behind Ricky, and their lefty ringer hit another Bomb. The next thing we knew, we were down 6-0. It got so bad, we drew 4 bases on balls in the 6th and only scored a single run. We loaded the bases 4 times with 1 out, and scored 3 runs. And so it went, Walbangers 7, Nor'easters 3.
On the plus side, Duse pitched 4 Herb Score like innings, keeping the game somewhat managable. He looked real good. Ice had a couple of hits and Joltin' got a clutch 2-out bases loaded hit in the 9th, driving in 2 runs. It was't like we weren't trying.
Tomorrow morning we play Rosemary's Baby; now a must win game. We are in the same Division.

"Hanging curveball I hit hard to shortstop
fall on my face stumbling as my calf goes "pop"
rehydrate, hot tub, can I play? maybe
Ill give up 16 runs pitching to Rosemary's baby"
Used with permission from: I, SuperJ, the collected works. "This Sucks"*
At Least...We'll always have the Beach House..
After the disappointing game we headed to the showers in the protective confines of the Clubhouse. Spirits slowly rising, we inspected Supe's calf (he got it wrapped), bought great contraband Reds bats and Reds-wear for contraband prices, and headed for the Hotel and the waiting Icehouses, Coronas, Millers, Pepsi Ones and the Sauna and Pool. We also had a GREAT Plan! MonCapitan had reconned a great restaurant for us to go to on our first Night in Sarasota, The Beach House! This was going to be fun, we had been looking forward to this for WEEKS! So, after gathering at the Hotel for awhile, we piled into our Fleet of Nor'easter SUVs and headed for Rt 75, and our Big Night Out.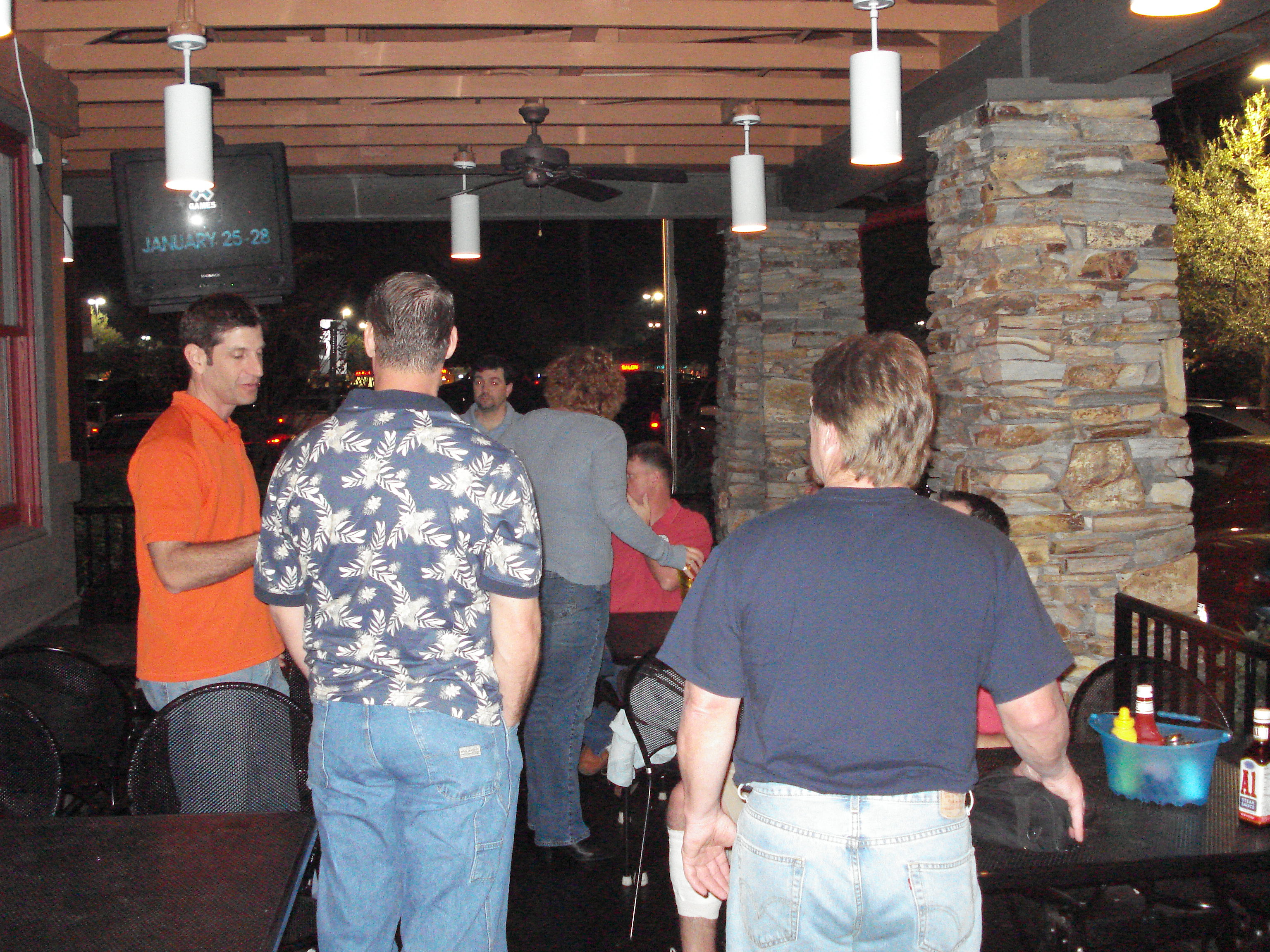 "On the road again
Goin' places that I've never been
Seein' things that I may never see again,
And I can't wait to get on the road again...."

We were Singing into our cellphones to each other and to G'DIK and Hammer who were meeting us at The Beach House. WHAT A LIFE!! We are the BE-A-U-Tiful people!!! And tomorrow, RoseMary's Baby will feel the Power that is the Nor'easters!
However, as you might have noticed, if you have been reading between the lines, there was a disturbance in the Force at large . The Nor'easter Timeline had been altered by an unseen mischievious presence. As we approached Rt 75, we could see it was a Traffic Hell. A miles long inescapable parking lot ! We tuned in the local radio, and determined that Rt 75 was a Homicide Crime Scene. A bound and gagged body had been found in a swamp next to Rt 75 near the Beach House...Geezus!...What next!!??...wait, don't answer that....

Look, it could have been worse, we could have gotten ON the Rt 75 ramp, instead of bailing, pulling a U'ie and heading to plan B, Longhorns. G'Dik and his wife were stranded at The Beach House and Hammer and Chris likewise at their Hotel, Chez Pantie Crickets. But we ate, drank and be'd Merry at Longhorns. Tomorrow is another Day.

To be Continued...
Some Images of Game 2 and aftermath