Miller Highlifes Pound Pepsi's 10-1
Clubhouse Flu, Freak Accidents and Curfew suspensions leave Pepsi squad short for Game 2
August 24, 2006
By H.L. Mencken
When Pepsi One Manager Fluff arrived at the ballpark Thursday night, he was greeted with some bad news. Expensive free Agents Ski and Little Ski had the "Clubhouse Flu" and couldn't leave the Hotel Room. If that wasn't bad enough, Billy "The Kid" DeSanty was caught slithering into the Hotel at 3:37 AM earlier that morning with his personal "Masseuse"; Amber Lynn. This calls for an automatic 1 game suspension. The Pepsi Ones would not have the services of their inner infield defense, known around the league as the "Impenetrable Iron Seive". Yesterday, Fluff found out that Ace Pepsi pitcher Bullet was lost for the season with a left knee injury incurred while skate boarding; (a clear contract violation). What else could go wrong?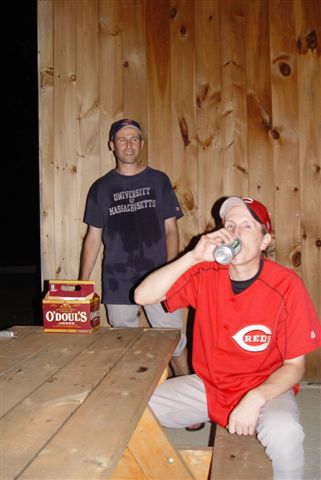 The Rout
Plenty.
With MadDog, Supe and Ice anchoring the middle of a dang good batting order, Pepsi pitchers Kenny and Fluff were roughed up for 4 runs in the first 3 innings. Damaging 3-bag bombs from Ice and MadDog got the Highlifes on the road to Victory. Meanwhile Ace Ice, MadDog and Danny Williams ran into no trouble through 3. After 3 Miller highlifes 4, Pepsi Ones 0.
In the 4th, the Pepsi's scored their lone run on a ribbi single by Nails, plating Fluff, who had walked and stole 2nd. And that was the offensive output of the flat Pepsis for the evening. The Highlifes poured it on in the bottom of the 4th with a 4 run outburst, keyed by a Dentist bases loaded triple off the Chef.
Getting "Hammered"
With darkness setting in, and the Pepsi's batting in the 5th, we had our TNB moment of the night. This one would inspire an email contest the next day called, "Name Hammer's Pickoff move"
With Hammer on the hill for the Highlifes, and Fluff on first after a single and 2 outs, Hammer unveiled his now not too secret weapon, the Hammer pickoff.
Hammer's move to the plate and his move to first are indistinguishable. To some, it looks like a toy with an air pump, like a Hula Girl who lifts her skirt up when you squeeze the pump, or the Jack-in-the-box. Whatever, it's pretty cool and you can't get a jump off it. After 2 pitches to Nails, Fluff guessed that Hammer was going home. Wrong Fluff! Picked clean, Fluff was tagged out for the last out of the game by a trash-talking Supe and 21 other guys pointing and laughing. That is how the game ended. Let's go have a Beer Inning!
And after 10 or so pretty funny name suggestions, "Getting Hammered" is now the official name for Hammers move to first.

See you next week
Fantastic Foto Gallery