Westfield Wheelmen 8, Whately Pioneers 3
Termie Escapes Injury
This game, the 1st of 3 on the 2009 schedule, is the biggest test the Pioneers will have. The Wheelmen are very good, tough, and don't make mistakes. This is like a mid-term test to find out where our skills and tenacity stand. We will need our 'A' game to compete today.
Tale of 2 Games
The first game within a game was Wheelmen 6, pioneers 0. Three innings into the game the Wheelmen were doing their usual number on the Fill-in-the-Blank-opponent. It was in the 3rd inning, I believe, that Termie got drilled by a dangetous liner back through the pitchers box. It hit his hand and made a sound like a half pound of hamburger being thrown against the wall. Thwaap! No obvious break, so Termie and we escaped to fight again. Termie finished up the third, but was done pitching for the day.
Enter Turk
Our plan was to close with Turk, since we liked the matchup with the high heat against the Wheelmen

Turk began mowing down the Wheelmen, just liked we hoped. One thing we have is pitching depth. We have 4 fine hurlers, all with different styles. Scoring runs is our soft spot. I think we are getting better at manufacturing Aces, but we have to get our players healthy and to the Matches.

The Pioneers held firm and stopped the Wheelmen from scoring for 3 fromes, while we scratched and clawed for 3 pioneer Aces. After 6 innings, the game stood at a managable 6-3.


Matches
The top of the seventh would make the game extremely hard to crawn back into. Silky blooped a jam shot into the garden behind second base, just out of the reach of the second sacker. Matches then took Turk about 10-12 pitches into the at-bat before singling to left center. It was the best and most important at-bat of the match, to this point. The Wheelmen then played, get 'em on, get 'em over, get 'em in for 2 Aces. They are great at this, and it's why they are undefeated this season.
There were no further threats by either Club and the game ended with the Wheelmen 8, Pioneers 3.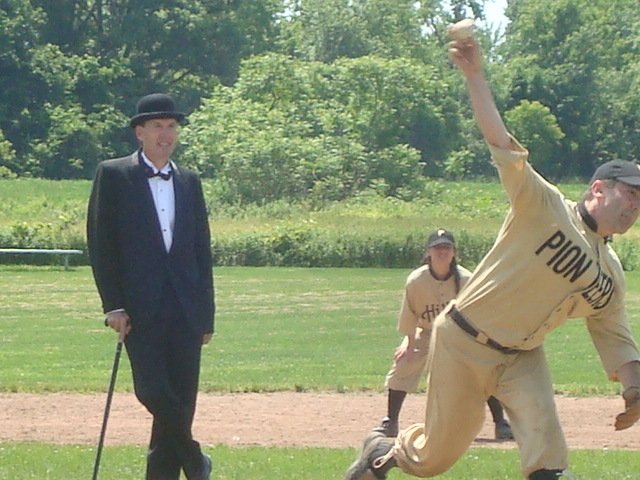 This was a very good game and set the stage for the following Friday night, for Game 2 of the Pioneer vs Wheelmen.