Westfield Wheelmen 3, Whately Pioneers 1
One hour and 27 minutes
My Dad told me often, sometimes at one of my not-so-hot School Games or when we were watching a 4 hour Yanks-Sox Game, that he remembers games in the 30's, some that he played in, that were routinely less than 2 hours; sometimes much less.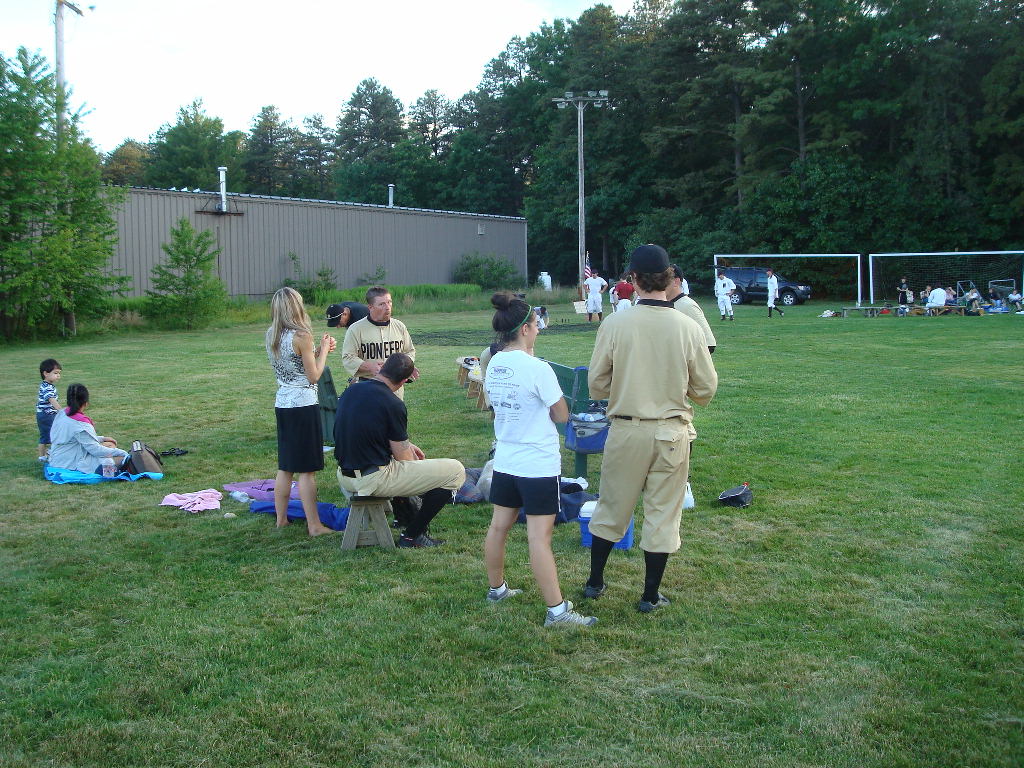 To be honest, it's hard to imagine how. I have played in 2 hour games, and that seems to be the minimum anount of time possible to play even a low scoring well pitched and defended baseball game.
The more I play Vintage Base Ball, the less strange it seems to me. I am beginning to think that it can bring you closer to the real fundamentals of the game. It requires more of the player, and so you have more of a certain kind of player on the teams. I will freely admit that I am happier in that kind of dugout.
Let's Play..Damnit!
The baseball mobile left the Shop at 5pm. The week had been tough and complicated, but it's Friday, and we have a game on the schedule. Time to roll. Our mission was to pick Albie up at the Northampton Bowl parking lot, and get to the Shire in time for the game. Spider is at the helm as Buck and Bug huddle in the back seat. Bug is injured, but we pack him up anyway.
We pull into the bowling alley parking lot, and there is Albie. She is looking like Valerie Plamme. 007 rating. Al gets into the baseballmobile, riding shotgun.
Off we go to find the Shire. It is tucked behind Berkshire Industries and next to Barns Airport. Even with a Google map it is hard to find, but an absolutely great place to play a base ball game. We pull into the lot next to the field and empty the baseballmobile. There is plenty of gear to carry down, and I had my hands full with Bug and his hospital bed. Al got dressed in the back seat and Spider grabbed the green trunk and headed to the field. As Bug and I skirted the outfield, Bug trying to figure out a way to relieve himself on 3 bad legs, I glanced over and saw Spider, muscles bulging, relentlessly heading to our bench with the trunk. Spider looked like an ant, carrying a load 10 times his weight. Like I said, you get more of a 'certain kind of player' on the vintage teams. Speaking of which, Nails comes running out to short center to help Spider, after he assesed the situation. HA! The Pioneers are here, nothing will stop this game....we'll be ready in 15 minutes...tops.
OK, Show Time
The exact roster for the game was a big unknown. Lucky was late, getting out of work at 5. Slappie wasn't at the Shire yet and that meant that Buck was at 3rd to start the game. Buck can't run, bend over or move side-to-side. Perfect. We had the bats, since Buck lost the pre-game coin toss, and Westfiels chose to be the Home club. Buck is 5-2 in coin tosses this Season. He is having a career year. We should have used Nails' coin, it has the best Tails I have ever seen.
The 'Heads' ain't bad either. Where does Nails get this stuff? ...I realy like the new Nailsmobile camouflage Jeep too.

Time for some strategy. The Wheelmen seem to be somewhat susceptible to the Heater. Our plan was to pitch Turk, then Bullet. But, tonight, it's all Bullet. After a week of Blues, a tough base ball game is just what Bullet needed to 'get him back to where he was'. Nails, Bullet, Buck, Spider, Albie, Hammer, "Mike", Murph, Ski.
Let's do it!

Matches, the Wheelmen hurler, was throwing heat. Murph and "Mike" K'd, and after Supe reached on a Garden muff, Bullet was erased on a comebacker. Bullet, also throwing Heat, erased the Wheelmen quickly. Surviving our own garden muff.
The Offence, in a Nutshell..Slappie goes to the Hospital
The Wheelmen second inning is the only time in the game where the vaunted Wheelmen offence did any damage. And, they needed a little luck, at that. Rusty opened the frame with a ringing 3 bagger and Gator looped an excuse-me single into short right. Wheezer split our Garden guards with a double and Taco blooped an opposite field safety for the 3rd run after 2 dribblers back to Bullet. Nails and Albie rubbed out Taco on an attempted theft of 2nd. But 3 Westfield Aces had crossed home plate.

Hidden Ball Trick
The 4th inning featured another Vintage Base Ball staple...the hidden ball trick. Unincombered by rules about what you can and cannot do with the base ball (you can put it in your pocker or shirt) or where the pitcher can stand etc, sometimes the base runner can be lulled into a false sense of security...and die an embarassing death. We have done it to opposing players and we have fallen prey twice this year. Our very first base runner of 2009, Turk, was picked off second with this play, and today, Spider was erased from second, with one after swiping the bag.
Bullet hit a pop into shallow right, which the Wheelman second sacker gathered in. Spider stayed at second. The second baseman flipped the ball to Matches, and no one on the Pioneers saw Matches give it back to the second baseman. As the Wheelman SS chatted up Spider, and Spider took a short lead, Buck, coaching 3rd noticed that the 2nd sacker had the ball and was about to tag Spider out! As Buck yelled "BACK!" the 2nd baseman tagged Spider out. That is not a good feeling. You have been had...tricked...bamboozled...and you are now making the lonely trek back to the silent bench.

Meanwhile, in the 5th, Gator ripped a 2-hands down liner to Slappie's left, as he was playing 3rd. The ball caught Slappie's right hand..whack!..fell to the ground where Slappie recovered and threw Gator out. Well, the umpire called him safe! , but Bullet wisely asked for a gentlemen's call, and Gator admitted that he was out. I have to say that the sportsmanship was outstanding all night, and especially Jersey Joe who I am beginning to actually like.

The Pioneer offence occured in the 7th inning. Bullet led with a base hit and was sent to third on a Ski Bomb to left center. There is a secret to the Ski blast, that I am not at liberty to discuss. We will use this again when we need an Ace. With 1 hand down, Hammer executed a perfect suicide squeeze with Bullet, and it was 3-1 Wheelmen after 7.
And 3-1 it remained. There were 12 safeties in the entire game; 8 for the Weeelmen, 4 for the Pioneers. There were 2 muffs in the game, both in the first frame. The Post Game Wheelmen Beer inning was absolutely first rate. We learned the beer inning technique from the Wheelmen, and employ it at Herlihy, with a pioneer twist. The Family and Cranks of the Wheelmen are of the highest order. I loved the fact that the aircraft employees hung around out in left field, hoisting coldies and cheering on their Westfield 9. This was a spectacular base ball atmosphere.
As a post game note: Bullet unveiled the "Bullet hesitation pitch" tonight. We will see more of this , I am sure...
One hour and 27 minutes.