Our Season
Dedicated to Nail's Mom, Charlotte and Fluff's Mom Shirley. We Loved them.
May 15-October 25 2008
By Captain Buck
Q thinks, Fum fixes his Junk, Maddog chews, Matt checks, Core stares, Hammer paces, Bugs sleeps...play freakin' ball!!!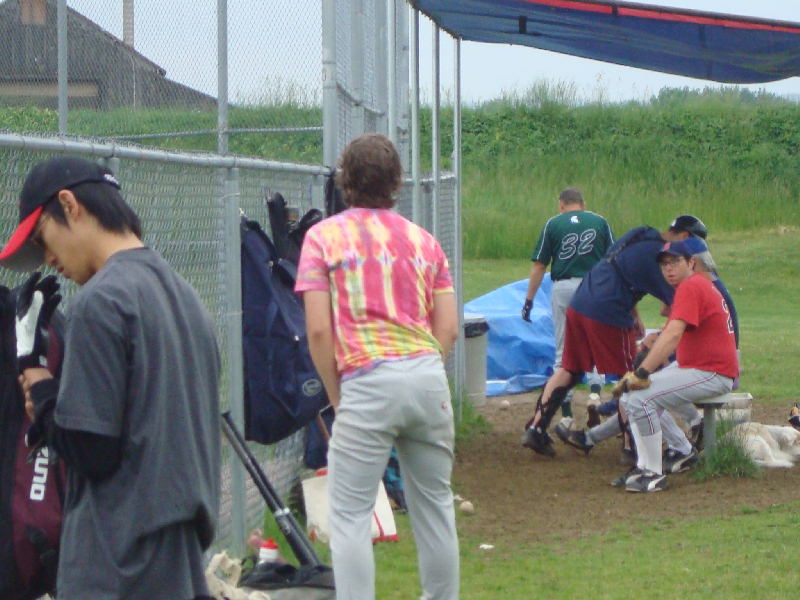 The Games Scoreboard
But first, some Box Scores and random pictures of 2008. A good year with some knocks too.
| | | | | | | | | | | | | |
| --- | --- | --- | --- | --- | --- | --- | --- | --- | --- | --- | --- | --- |
| | | | | | | | | | | | | Final score |
| | | | | | | | | | | | | |
| inning | 1 | 2 | 3 | 4 | 5 | 6 | 7 | 8 | 9 | 10 | | |
| Joone 19, 2008 | | | | | | | | | | | | |
| Fluffs | 1 | 0 | 0 | 0 | 1 | 0 | 0 | 3 | 0 | | | 5 |
| Trooths | 0 | 1 | 5 | 0 | 3 | 0 | 2 | 2 | x | | | 13 |
| | | | | | | | | | | | | |
| | | | | | | | | | | | | |
| 7/10/2008 | | | | | | | | | | | | |
| Green Sox | 12 | 1 | 1 | 0 | 2 | 0 | 0 | 0 | x | | | 16 |
| Black Sox | 0 | 0 | 2 | 1 | 3 | 4 | 5 | 0 | x | | | 15 |
| | | | | | | | | | | | | |
| 7/24/2008 | | | | | | | | | | | | |
| Ball Busters | 5 | 2 | 5 | 1 | 2 | 0 | 3 | 0 | x | | | 18 |
| Master Batters | 3 | 0 | 0 | 6 | 1 | 0 | 4 | 4 | x | | | 18 |
| | | | | | | | | | | | | |
| 7/31/2008 | | | | | | | | | | | | |
| Master Batters | 0 | 2 | 2 | 0 | 0 | 1 | 0 | 0 | x | | | 5 |
| Ball Busters | 0 | 1 | 6 | 0 | 3 | 2 | 0 | x | x | | | 12 |
| | | | | | | | | | | | | |
| 8/7/2008 | | | | | | | | | | | | |
| Master Batters | 0 | 3 | 0 | 1 | 0 | x | x | x | x | | | 4 |
| Ball Busters | 0 | 3 | 1 | 0 | x | x | x | x | x | | | 4 |
| | | | | | | | | | | | | |
| | | | | | | | | | | | | |
| 8/14/2008 | | | | | | | | | | | | |
| Trooths | 0 | 2 | 0 | 1 | 0 | 3 | 3 | 6 | x | | | 15 |
| Hammers | 1 | 0 | 0 | 1 | 1 | 0 | 1 | 0 | x | | | 4 |
| | | | | | | | | | | | | |
| 8/21/2008 | | | | | | | | | | | | |
| Hammers | 0 | 2 | 0 | 0 | 8 | 4 | x | x | x | | | 14 |
| Trooths | 0 | 4 | 4 | 1 | 4 | 0 | x | x | x | | | 13 |
| | | | | | | | | | | | | |
| | | | | | | | | | | | | |
| 8/28/2008 | | | | | | | | | | | | |
| Trooths | 1 | 3 | 0 | 0 | 3 | 0 | x | x | x | | | 7 |
| Hammers | 0 | 0 | 0 | 9 | 1 | x | x | x | x | | | 10 |
| | | | | | | | | | | | | |
| | | | | | | | | | | | | |
| 10/5/2008 | | | | | | | | | | | | |
| Blackstones | 0 | 1 | 0 | 1 | 0 | 0 | 0 | 0 | 0 | | | 2 |
| Terminators | 0 | 0 | 0 | 0 | 0 | 0 | 0 | 8 | x | | | 8 |
| | | | | | | | | | | | | |
| | | | | | | | | | | | | |
| 10/11/2008 | | | | | | | | | | | | |
| Terminators | 3 | 0 | 0 | 2 | 0 | 3 | 2 | 0 | 2 | | | 12 |
| Blackstones | 0 | 0 | 0 | 0 | 0 | 1 | 0 | 0 | 2 | | | 3 |
| | | | | | | | | | | | | |
| | | | | | | | | | | | | |
| 10/18/2008 | | | | | | | | | | | | |
| Colt 45's | 0 | 0 | 0 | 1 | 1 | 0 | 1 | 4 | 0 | | | 7 |
| Rockies | 0 | 2 | 2 | 0 | 3 | 1 | 0 | 0 | x | | | 8 |
| | | | | | | | | | | | | |
| | | | | | | | | | | | | |
| 10/25/2008 | | | | | | | | | | | | |
| Atlas's | 0 | 2 | 1 | 0 | 0 | 0 | 0 | 0 | 0 | | | 3 |
| Colt 45's | 0 | 2 | 2 | 0 | 2 | 4 | 0 | 2 | x | | | 12 |