Simsbury Taverneers 18 , Whately Pioneers 13
Fox 61 covers the Game for the Live Broadcast
Today we travel to picturesque Simsbury Connecticut to play our friends, the Simsbury Taverneers. The game will be special for a couple of reasons. First, Jim Bouton will start the game for us. I am not just proud to call Jim a friend, he also happens to have been the best pitcher on the '64 Yankees, in my opinion anyway. Jim is also the author of the iconic Ball Four, and invents interesting things. And, of course, he can still pitch. Jim throws the knuckler.
The second reason today's Tilt will be special is Susan D'appice. She is a very talented photographer and the spouse of Stretch, the Simsbury 1st baseman. Susan's base ball pictures are the best I have seen.
The Hoopla!
Jim just wanted to pitch a few innings in peace, but also wanted a few pictures of his pitching. Jim asked me if there would be a photographer at the game. I told him Susan, who was an excellent photographer would certainly be there; but I would check to make sure.
IyyyYiy Yiy. Upon hearing that Jim would be the starting pitcher, Fox 61 news was contacted, and they wanted an interview with our starting pitcher. A SNAFU was forming. I can't blame Simsbury for the enthusiasm, Jim's presence was a special moment. But...
In the end, it all worked out perfectly. The Fox 61 guy was very professional and respectful of the game. AND, the Fox broadcast was very very entertaining. I wish it was still on their website.
The Game
Buck won the coin toss and chose to be Home team. Bulldog was warming up with Nails. We were missing Pop and Bullet, but we had 12 good players, and we anticipated a good game. I am sure Bulldog had a few nerves. I would have. After retiring the first striker, nothing went right for the Pioneers. A few hits, and few muffs, and the Taverneers had srtuck first with 4 quick Aces. The wind was blowing straight in from center field, and it was being no friend to Jim's Knuckler, which has better movement into wind resistance.
Murph and Spider pushed across two Pioneer aces with 2 base knocks and a little Ginger, so after 1 the score was a managable 4-2. The Taverneers would take advantage of 5 more Pioneer muffs in the next 2 innings to build a 12-2 lead. We seemed a little tight and a little rusty. Can't always bring your 'A' game, but now we will have to score a bunch of runs.

Bulldog pitched a clean 4th, and headed back to the Mountain. He had plenty to think about on the way home. We had played poorly behind him. The Pioneers never say die, and Turk, Murph, Spider, Ski, Connie and Termie had great at bats and Slappie, Nails , Albie and Hammer manufactured 2 Aces with some small ball in the 7th.
After 7, we had come all the way back to make it 14-13 Taverneers. It was a new game. The Taverneers had some Whale Oil left in the tank and their lanky lefty hurt us with a blast in the 8th. He drove in 2 with a double and scored soon after. A Connie 2 bagger was all we could counter with in the last 2 frames, and took an 18-13 loss to our friends from Simsbury. A great and memorable time was had, although the beer would have tasted colder with a win.
The After
After the Huzzahs and the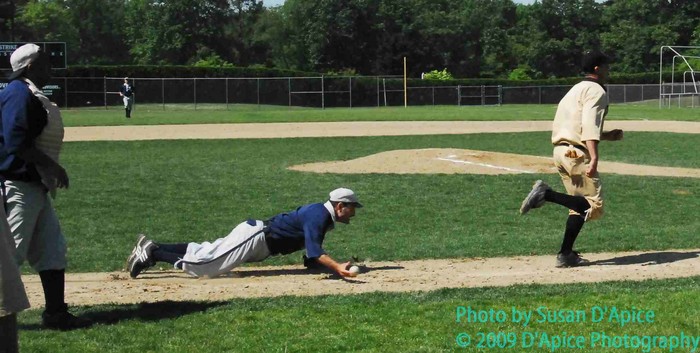 Fox 61 camerman took his battery pack and transmitter off my belt (Buck was wired for the game and was the source of game commentary for the Fox broadcast) we retired to the parking lot and talked about the game. We had to regroup for next week. We play the Wheelmen, and the Base ball will get serious.
Taverneer Pictures by Susan D'Appice