TNB 2007 Opens with Family Fued
May 3-17 , 2007
By William Clark
TNB Kicked off the Spring '07 with the first Jetsons-Flintstone series. Was baseball REALLY better in 50,000,000 BC?... or in 2069 CE? Some things are hard to figure out...Like...Who is Hotter, Ann-Margrock with her hard edged beauty or the hip Judy Jetson? Maybe Perry Masonery can figure it out!
Game 1...Jetson's First Blood... May 3, 2007
Well, the Jetsons opened up with a barrage of base hits, and the Flintstones stone gloves were almost useless. By the time the carnage was over, it was 17-1 Jetsons, in 4 innings of Hell.
The Flintstone pitchers had only this to say:
The ball felt like lead
The wind a Huge hand
The players could tell
6 batters to Hell
Game 1 Pics
Game 2...Flintstones find a Hero...May 10, 2007
The Flintstones had a whole week to lick their wounds and plot revenge against the Jetsons. A 17-1 ass whuppin' makes for a long week of redemption waitin'. It was Whately Pioneer VBC picture day, so Slappie came up from Paw Paw for the picture and the game. One trouble, The Jetsons thought he was a Flintstone and the Flintstones thought he was a Jetson. And Slappie, being an Olde Skool Gentleman, didn't say nothin' to nobody.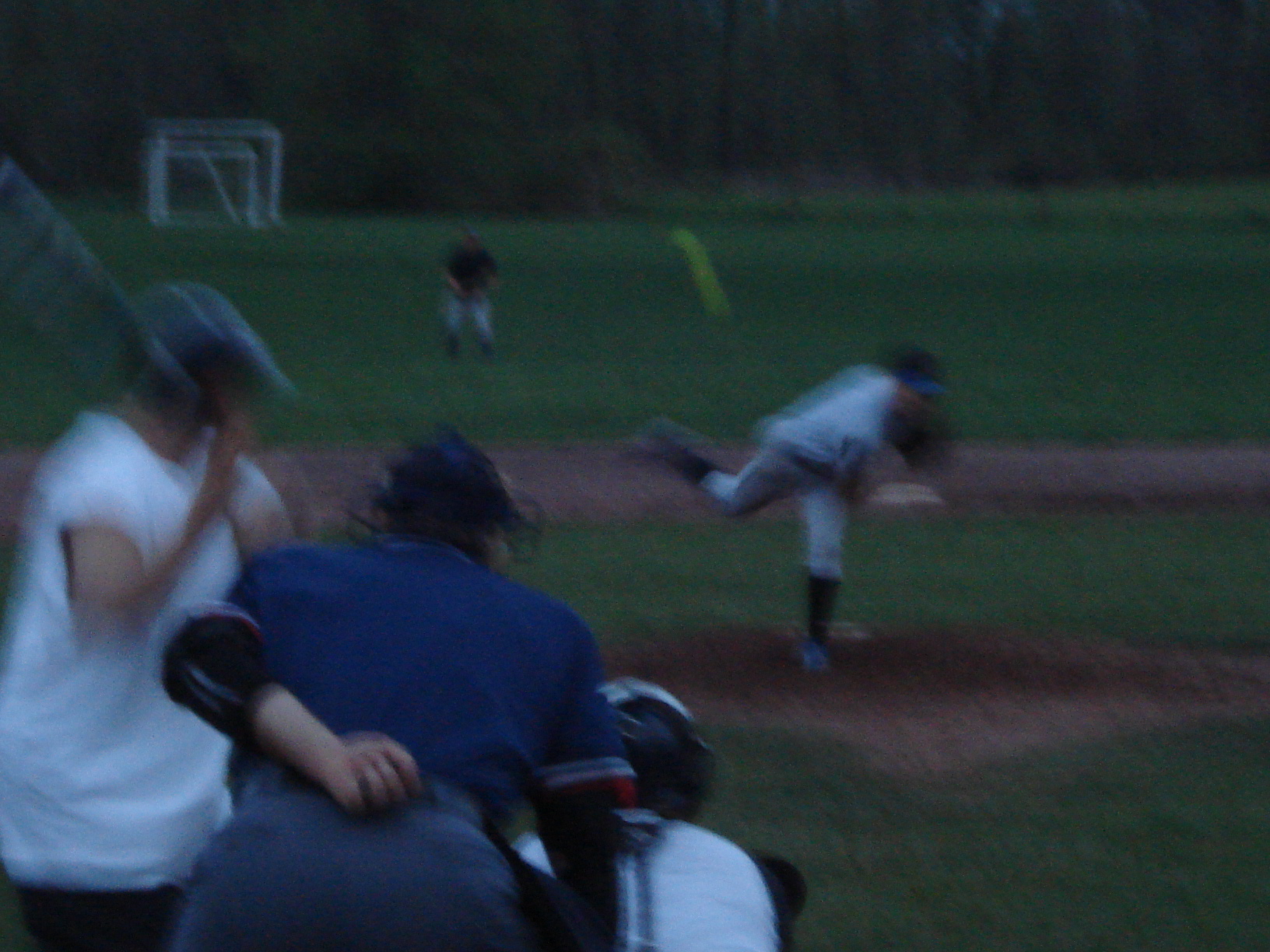 This week Fluffy pitched out of a 1st inning Jam, so there was no repeat of the 6 batters to hell incident. The Jetsons held a brief 1-0 lead, before the Flintstones drew blood with a 6 run 3rd inning uprising. But the Jetsons would solve the offerings of the Blacksmith in the 5th with 4 runs via drillings and bombs.
In the 6th, nursing a 2 run lead, the first 3 Jetsons reached by a walk, and 2 errors. So here we were, the tying run on 3rd (Irish Tony) and the winning run on 1st (MediocreJ) and the Blacksmith out of Gas.
Meanwhile, back on the sidelines, a forelorn Mr and Mrs Slappie announce they are going to leave and go home.
SuperJ says "WHAT?!"
Slappie says, "Might as well, I ain't playin"
Supe says, "Geezus Krismas man, go in there and SAVE us!"
Slappie says, "OK"
Mrs Slappie says, "Pitch good, or you're walkin' home Boy!"
Slappie says, "Awe Ma, you KNOW I pitch Good!"

The rest is History. Slappie struck out Nick Avery, Kenny G and Knight Man to end the game and preserve the Flinstone pride, and save his ride Home to Paw Paw. Ma still made him do his chores.
Game 2 Pics
Game 3 ...Late Jetson Rally catches Flintstoned in 6th...May 17, 2007
A TIE! Yaba, Daba, Dooo...oh no!
They say a tie is like kissing your sister...
"Naa, a tie ain't that Good"!, says Ewe Manheim
But whatever, it made for another exciting race to Sunset at Herlihy Field today.
The Flintstones once again had a huge bat-around 3rd inning. Using walks to Dino and Hoppy Rubble, and BOMBS by Bam Bam, Fred and Mr Slate, The Flintstones jumped out to another 6-1 lead.
But the Flintstone clubs would go to sleep after that and the Jetsons would get to work. After roughing Wilma and Pebbles up for 3 runs, The Jetsons cam down hard on Dino in the 6th. A walk and an absolute A-Bomb to dead center by Judy Jetson got things going. There were"rundowns" and plenty of chaotic action ending in a 6-6 tie with almost no sun left.
Henry Orbit came on for the Jetsons and K'd Hoppy Rubble, Arnold and Dino (a bunt attempt with 2 strikes while Wilma looked on with HORROR!) to leave the series Tied, a Manheim, if you will .
Next week we start over. See you Thursday at Herlihy.

Game 2 Pics