London Fog Draws First Blood
The Fog turned their offence loose in the 4th and 6th innings to score all 6 of their runs in a well-played 6-4 win over the Ecc juicers.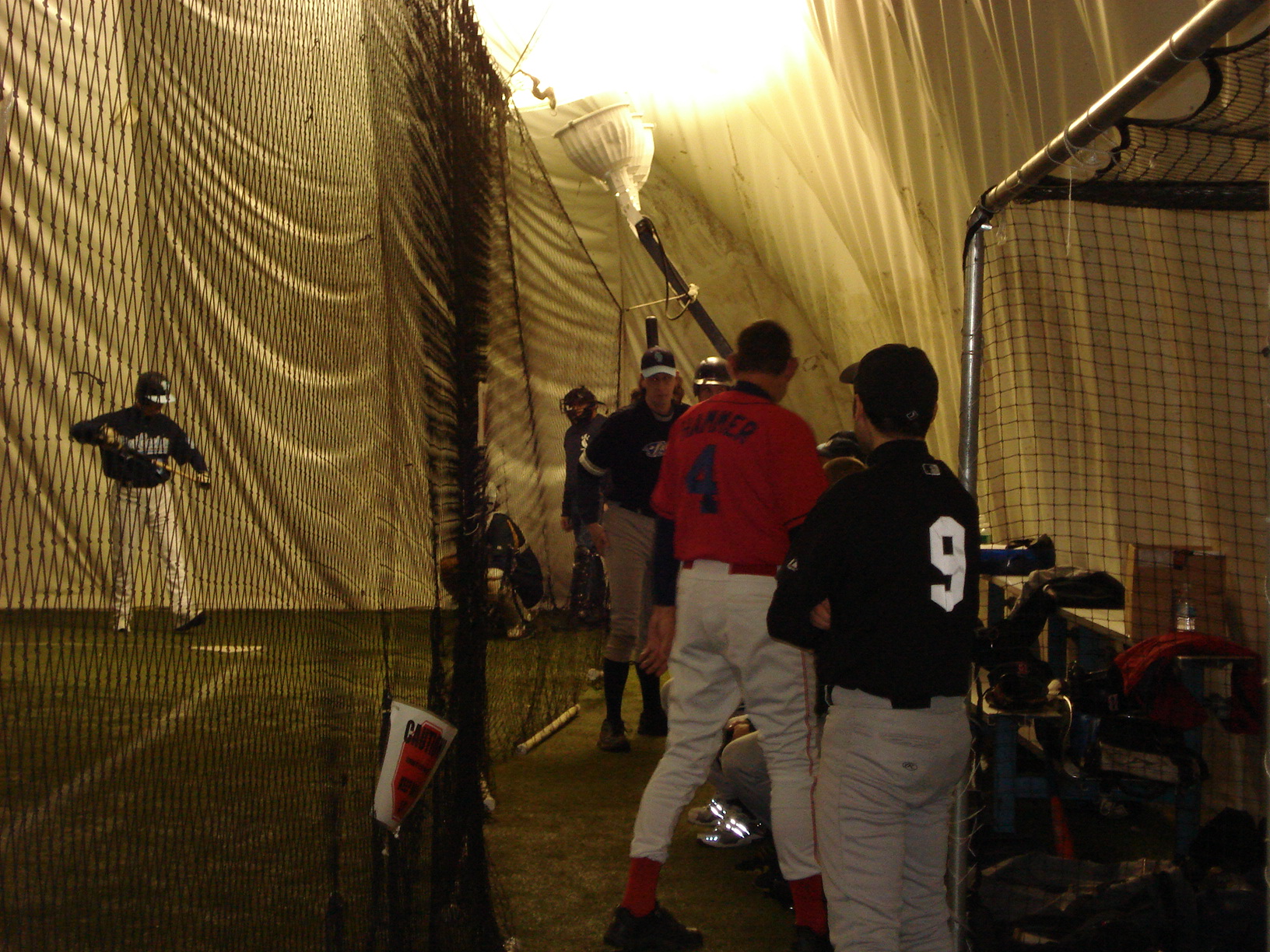 Ecc himself sent Chap's first pitch into the Wedge for a quick 1-0 lead, but Chap would give the Juicers no more nector in his crisp 3 innings of solid zone pounding work.
Termie was just as stingy in his 3 innings, spreading out harmless singles to X, Spin and BeeDee. The Fog would bust loose off Buck in the 4th. Buck's offereings in '08-'09 have been red meat to the Dome hitters this year, and tonight would be more of the same as Fog led off with a blast that may have caused damage to the Dome roof., X-man, Blap, Spin, Chap and Max would Tee off on the Hapless Buck for 4 tallies. Buck mauled a Gatoraid bucket and a ball bag on his way to the trainers room after his outing was mercifully terminated by Max's rundown. The once press-friendly Buck has been surly and unavailable to the once fawning friends in the media.
The Juicers would scratch 2 runs off hammer and one off Max (Supe scoring on a steal of second by Isaac) to round out their scoring while the Fog touched Goddamnit Kenny for 2 in the 6th, Casey, Chap and Spin doing the damage.
The one scary moment for the Fog came in the 6th. With 2 on and 1 out, Buck sent a Hammer sinker screaming out toward the Wedge. But Max, who was playing Buck on Silver Street hauled the liner in before it could hit the lower Wedge for a Home Run. Buck was seen abusing the recently damaged Gator Aid bucket again and sent the ball flying around the dugout. GSpot and Stu senior subdued the once affable Buck, and stuffed him in the Trainers room again.
This was a well played game and there will be more good action on the 5th.
Fog
AB
R
H
RBI
BB/HBP
HR
X
4
1
2
0
0
Casey
4
2
1
0
0
Chap
4
2
3
2
Spin
4
1
3
2
Blap
2
0
1
1
1
Kyle
3
0
0
0
Max
3
0
1
1
Hammer
3
0
0
Beedee
3
0
1
0
Shorty
3
0
0
0
12/29/2008
Fog
3
0
1
0
32
6
11
6
1
0
Team
1
2
3
4
5
6
7
8
9
Score
Juice
1
0
0
1
1
0
0
1
0
4
Juice
AB
R
H
RBI
BB/HBP
HR
Fog
0
0
0
4
0
2
0
0
x
6
Ecc
4
2
3
0
0
1
Buck
4
0
0
0
0
Supe
4
1
2
0
0
isaac
3
1
3
2
1
Termie
4
0
0
0
GDIK
3
0
0
0
1
Gspot
3
0
1
1
1
Cat
4
0
0
0
Stuman
4
0
1
0
Stu
4
0
0
0
0
33
4
7
3
3
0
Pitching
Juice
IP
H
R
ER
BB/HBP
SO
Termie
3
2
0
0
0
2
Buck
1
6
4
4
0
0
Gdik
2
3
2
2
1
0
Supe
2
1
0
0
0
1
Fog
IP
H
R
ER
BB/HBP
SO
Chap
3
4
1
1
1
0
Hammer
3
5
2
1
0
0
Slappie
3
1
1
1
2
2