M-M Trail pictures and Observations

Mount Holyoke Range...Rt 47 to Rt 116 , to The Grandby Notch ...Section 7 December 14, 2008
We started this section, from Rt 116 and hiked West towards Skinner Mt with the first stop at bare Mt, with fine 360 views of the Valley. There had been a recent fierce ice storm and we hiked up ice covered rocks and an amazing collection of frozen icy trees, bending at crazy angles. The air was sweet and crisp. and we stopped to enjoy the great vistas of the Valley from Bare mountain.
Mount Norwottock M-M Trail November 29, 2008 Section 8
We didn't have a lot of time today, but we wanted to climb up Norwottock because...uh..well, we never had before, and it was bound to be a fun 2 mile hike with a fantastic view at the top.
It was all of that. Also, this part of the trail, you will always run into some great people with their canine friends, and Bug loves the social part.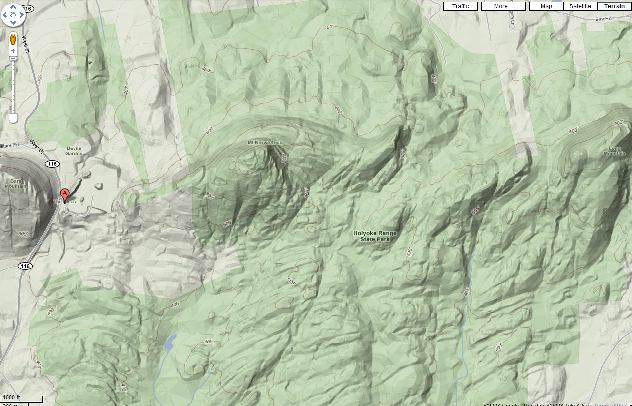 (In New Hampshire you can hike the M-M for hours and see absolutely nobody) We met a group of young folk (under 30 (-: , at the top and took some pictures for them. I would love to have those pictures now.
We approached from the Notch in Grandby, and next time we will approach from Harris Road in Amherst. Hopefully the weather holds for another couple of weeks.
Long Mountain...Section 8 ENE December 6, 2008
Hiking from Harris Mountain Rd into section 8, has you clinbing Long Mountain almost immediately. This section of trail is a pleasant 2 hour hike (up and back down long Mountain), and features a beautifully constructed large stone terrace 'stairway up a very steep part. I had to carry Bug up this one, at 15, he didn't quite have the horsepower to make it. In the above profile, west is to the left (Mt Norwottock, Long Mountain and east, to the right) you can see how the trail follows the ridge of the Holyoke Range.

Harris Road (Amherst) via Bay Road to Holland Glen (Belchertown) January 7, 2007 M-M Trail Section 9
This is a nice walk, nothing too challenging, and well blazed. You can stash your transportation in Holland Glen (Belchertown to the East) or Harris Mountain Rd (Amherst, at the foot of Long Mt in the Holyoke Range) and hike East or West on this stretch of the Trail. In Belchertown, the short stretch form Federal Street to Amherst Rd (Rt 9) isn't worth the effort, and just skip it. From Federal St you can see the 3 Lakes, Metacomet, Arcadia and Holland. They are worth a separate visit, on a nice day.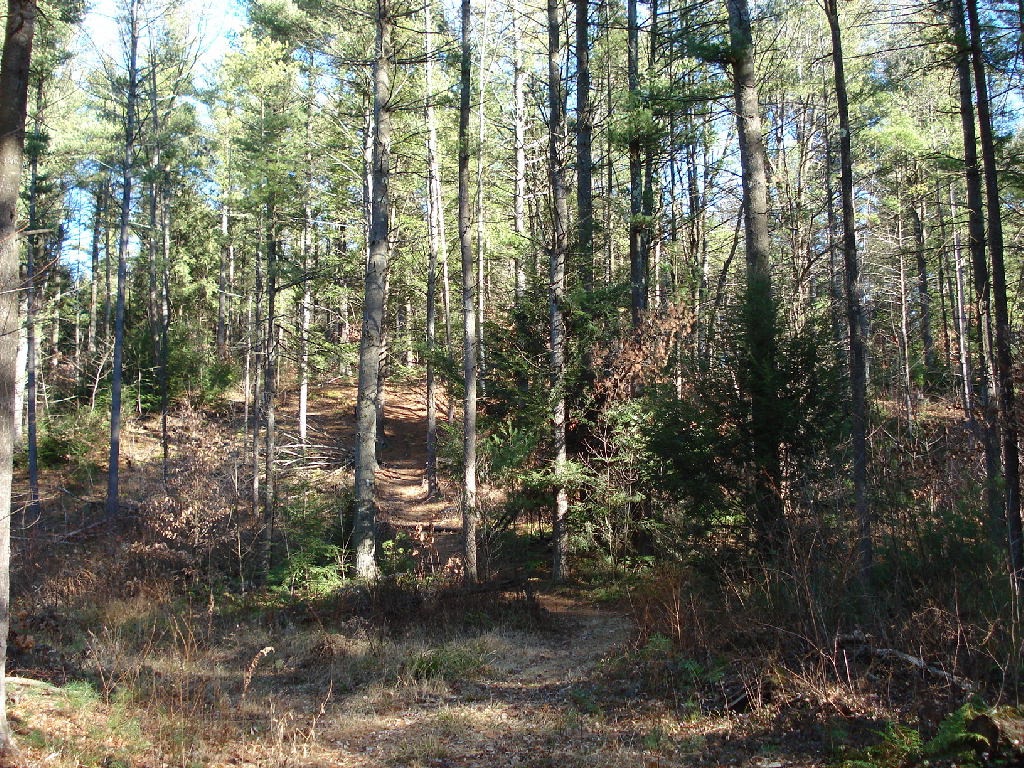 Mt Lincoln to Buffam Falls via Harris Brook to N Valley Rd Pelham, Ma Section 11 November 26, 2006...June 2007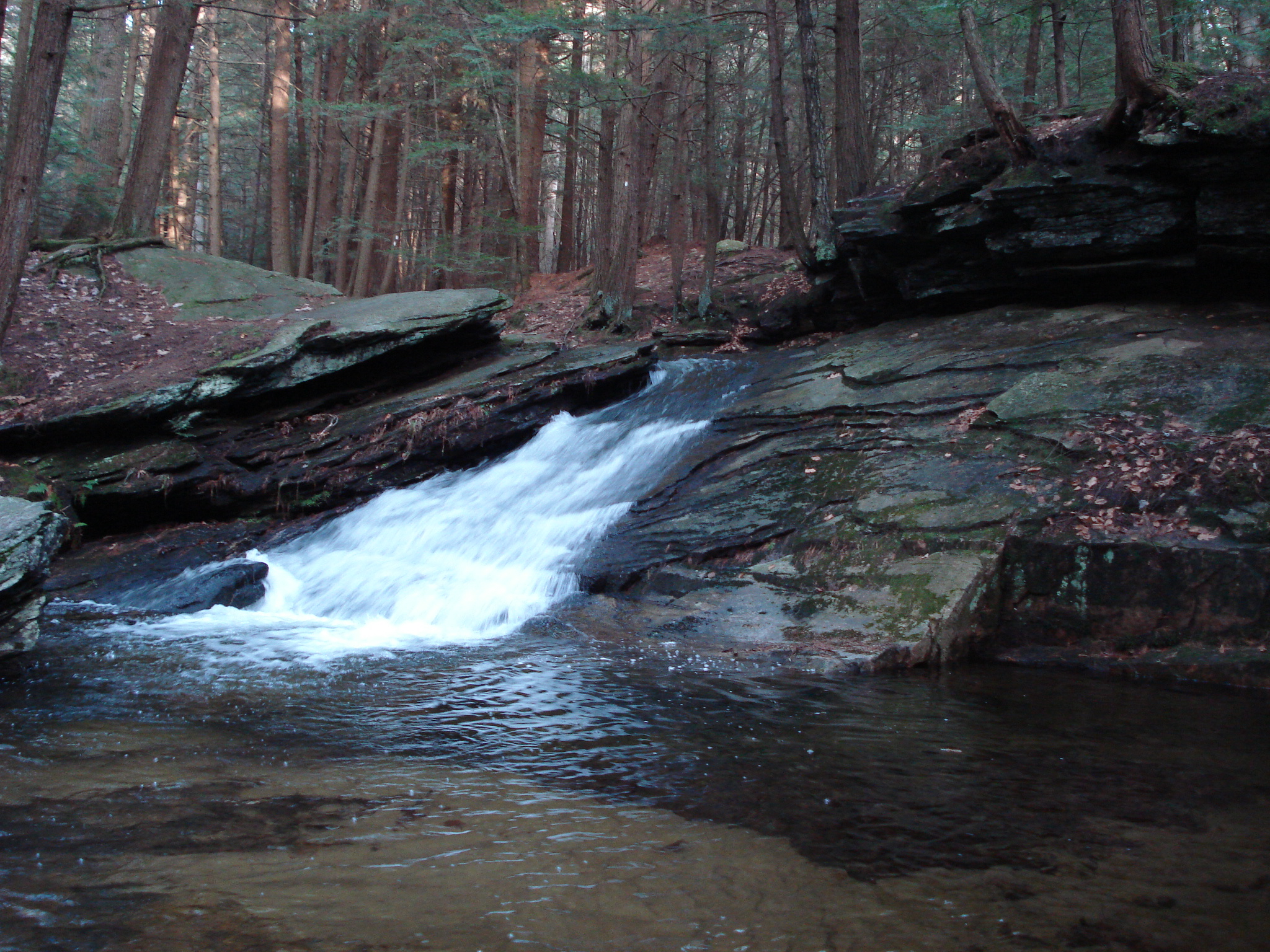 We enjoyed the stretch of the trail so much, Bug and I hiked it twice, once in November '06 and again in June '07. The Late Fall hike and the Summer hike are very different, and both ways are fun. It's been awhile since we hiked this section, but I still laugh when I remember that when we stopped by the Amherst Central Resevoir for a sandwich and pepsi break, I discovered that Bug had opened my pack in the fun-mobile on the drive down to the gate on Amherst-Pelham Rd, and consumed both sandwiches; mine and his. So, no lunch for me. He was fine. He actually looked expectantly as I took my backpack off, waiting for the enevitable delicious snack to emerge. He was actually dissappointed when I didn't deliver!! But, that is one of the many things I love about Bug, his boundless optimism.
Another vivid memory was the sight of Buffam Falls. What a beautiful spot. Buffam Brook and Amythyst join to form Harris Brook here in a gentle terraced falls. At the bottom is a clear waist deep pool. I made a mental note to return here in June and take a refreshing dip with Bug.